02 May 2016

World Press Freedom Day focuses on access to information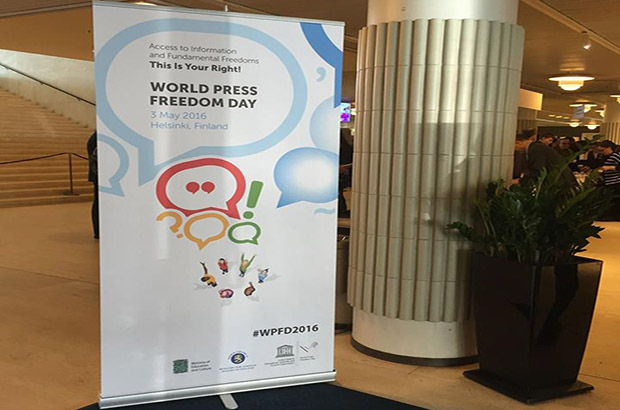 Helsinki, Finland, is the venue for these important discussions. Photo: Sarah Macharia.
---
WACC staff are addressing freedom of expression and gender equality at World Press Freedom Day events organized by UNESCO and the Government of Finland, May 2-4, 2016 in Helsinki.
Dr Sarah Macharia, WACC's Global Coordinator of the Global Media Monitoring Project (GMMP), will be joined by the Nordic country GMMP coordinators as they present the evidence that equal opportunities for men and women to participate and be represented in the media are essential for a democratic public sphere.
The theme of World Press Freedom Day 2016 (May 3) is "Access to Information and Fundamental Freedoms – This Is Your Right!"
"The theme of this year's World Press Freedom Day on access to information and fundamental freedoms adds to the urgency for changes in policies, education and journalistic practice that will ensure all people have equal rights to expression and information," said WACC General Secretary Karin Achtelstetter.
"Struggles to secure the right to freedom of expression for all are necessary at the same time as those for media freedom continue," Macharia said.
Reflecting that Article 19 of the Universal Declaration of Human Rights on freedom of expression is gender neutral, Macharia highlighted that the current differences in power between men and women mean that we have to "approach freedom of expression from a critical perspective that opens up participation to groups whose issues and voices have systemically been excluded from the conversations."
The theme of World Press Freedom Day echoes WACC's approach to communication as a basic human right, essential to people's dignity and community. For World Press Freedom Day 2016, WACC calls for intensified efforts to secure the right to freedom of expression and information for all.
In particular, WACC continues to call for equality and inclusiveness in the news media as women and other historically marginalized groups continue to "struggle to have their voices heard and to access information of relevance to them." (2010 Declaration by the U.N. special rapporteurs on Freedom of Expression).
WACC's call comes in response to its 2015 report of the Global Media Monitoring Project which found that women make up only 24% of the people heard, read about, quoted or seen in mainstream news media content. The needle towards parity has moved by only 7 points in 20 years.
World Press Freedom Day was proclaimed by the U.N. General Assembly in December 1993. In 2016, World Press Freedom Day coincides with three important milestones:
The 250th anniversary of the world's first freedom of information law, covering both modern-day Sweden and Finland,

The 25th anniversary of the adoption of the Windhoek Declaration of press freedom principles,

The year 2016 is also the first year of the 15 year life-cycle of the new Sustainable Development Goals (SDGs).
This year's WPFD focuses on three different aspects of press freedom:
freedom of information as a fundamental freedom and as a human right

protecting press freedom from censorship and surveillance overreach

ensuring safety for journalism online and offline
Read more about World Press Freedom Day here.