26 Mar 2014

Bangladeshi human rights activists speak up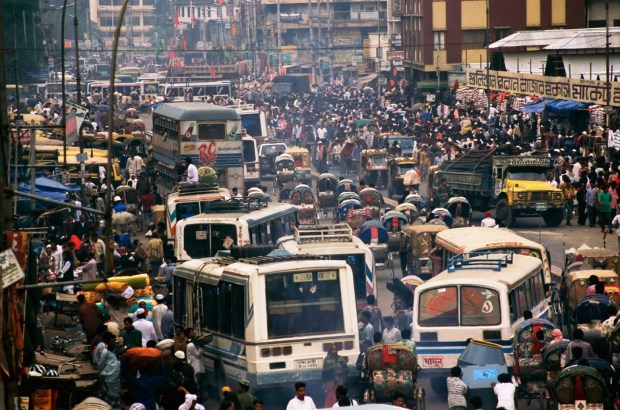 A busy street scene in Dhaka, capital of Bangladesh.
---
Human rights defenders from Bangladesh have called the international community's attention to the severe persecution of Bangladesh's religious and ethnic minorities. They identified the rise of religious extremism, fundamentalism and lack of security as major reasons behind human rights violations in the country.
These issues were raised by Bangladeshi human rights activists in a meeting on "Human rights and human security in Bangladesh". The meeting took place on 26 March in Geneva, Switzerland, and was organized by the World Council of Churches' Commission of the Churches on International Affairs and the Bangladesh Minority Council.
The World Association for Christian Communication (WACC) is currently supporting four communication rights projects in Bangladesh. One is aimed at monitoring representations of rural poverty in the media, especially in relation to women. The other three are capacity-building projects in community radio production, management and content development for women in three different regions of the country.
At the Geneva meeting, Tarun Kanti Chowdhury, president of the Hindu Buddhist Christian Unity Council in Sweden, said that persecution of minorities in Bangladesh is not an "overnight crisis" but a phenomenon deeply rooted in the history and politics of the country.
Chowdhury cited several examples of violation of the human rights of minorities, such as land-grabbing, kidnapping, sexual violence against women, forceful conversions to Islam, desecration of places of worship and discrimination related to access to education, business and employment.
Participants also identified women as the "worst victims" amidst violence against Bangladesh's minorities. Sister Rosaline Costa, executive director of the Hotline Human Rights Trust on Bangladesh, said that the religious and ethnic minorities have always been targeted by the political parties for their own gains and especially by Islamic fundamentalist groups.
Shariar Kabir, president of the Gathok Dalal Nirmul Committee in Bangladesh, stated that the "elements of humanism are present in all faiths, including Christianity, Hinduism and Islam, aimed at improving human lives".
He said that political use of Islam in Bangladesh is a distorted version of the religion, instigated by the Islamist parties for their own gains. Such use of religion has led to violence against minorities in Bangladesh and has the potential to create a backlash on religious communities in neighbouring countries.
WCC general secretary Rev. Dr Olav Fykse Tveit assured meeting participants of the WCC's commitment to working with churches and interfaith partners in Bangladesh for the protection of minority rights, as part of the "pilgrimage of justice and peace", a call to action from the WCC's recent assembly in Busan.
Source: WCC News.
---