06 Feb 2014

Climate change guidebook for African journalists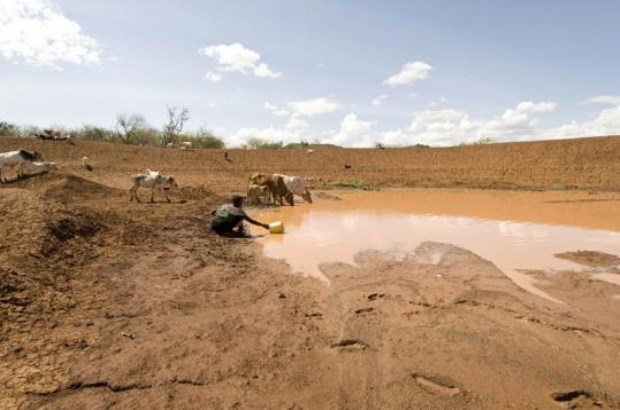 Drought in Africa affects livestocks and livelihoods.
Photo:
Des Willie/Action Aid
---
African media can and should do more to tell the story of climate change, according to a new UNESCO publication.
Climate Change in Africa: A Guidebook for Journalists claims that the odds are stacked against Africa unless local journalists intervene to "shine a light on the wealth of activities that people are already undertaking to prepare for climate change" and to bring "African stories to global audiences and help encourage the rich and powerful countries, their citizens and the companies based there, to act in solidarity with climate vulnerable communities."
Describing the guidebook as part of UNESCO's overall effort to raise awareness of the interdisciplinary core of climate change, and how journalists can reflect that in their practices, Fackson Banda, UNESCO programme specialist and editor of the publication, said:
"At the heart of this publication is a push for the type of climate expertise needed to resonate with African journalists and journalism educators – two important constituents for our work on capacity-building for specialized journalistic literacies."
WACC has long advocated the need for radical and urgent action to promote climate justice and to tackle climate change, in both of which traditional and alternative journalists have a key role to play.
The UNESCO guidebook was written by four media experts who linked climate change and journalistic practice within the context of African realities: Mike Shanahan and Teresa Corcoran of the International Institute for Environment and Development, and Willie Shubert and Cameron Scherer of Internews' Earth Journalism Network.
Mike Shanahan, lead author of the guidebook, says that "climate change is not the story – it is the context in which so many other stories will unfold."
He argues that climate change "… will affect every beat of journalism, from politics and business reporting to consumer and health stories. African journalists and their editors should not see climate change as 'just an environment' issue but as a new reality that will create growing demand from audiences for comprehensive, clear and locally-relevant coverage."
The Handbook is primarily for journalists and editors, and for teachers and trainers of journalists. It aims to support journalists with little time or resources to improve their coverage. While this book does not aim to cover everything it should enable journalists to understand all of the key concepts, report on climate change effectively and find more information and interviewees.
Part One presents general knowledge that every journalist needs in order to report on climate change.
Part Two provides greater detail on different aspect of the impacts of climate change in Africa. Part Three covers ways to limit climate change and adapt to its effects.
Part Four explains how governments are enacting policies and plans, at national, regional and global levels, to deal
with climate change.
Part Five provides tips and advice to help journalists improve their reporting.
Part Six presents some additional reference material and sources of information.
Climate change threatens to reverse many of the development gains that many countries have achieved over the past decade. It challenges food and water security, political and economic stability, and the livelihoods and landscapes on which the world's most marginalized people depend.
In this context, as Dr Fatima Denton, Coordinator of the African Climate Policy Centre, based in Addis Ababa, Ethiopia, pointed out at the the Third Annual Conference on Climate Change and Development in Africa (2013):
"Africa is rising, but this growth will be short lived if we do not manage the impacts of climate change. The opportunity for harnessing the vast natural resources that we dispose of will be squandered if benefits accruing from minerals and the extractive industries are not used to stimulate growth in agriculture and pave the way to industrialisation using smart innovations and cleaner technologies. We will close the window of opportunity if the vast wealth of energy that we have is not used as a foundation to green our economies. We will be punching above our weight if the strength of the political will of our leaders is not commensurate with our investment in low-carbon climate resilient economies that will keep us on the pathway to green growth and environmental sustainability."
Download the Handbook here.