09 Aug 2018

Communication makes relationship possible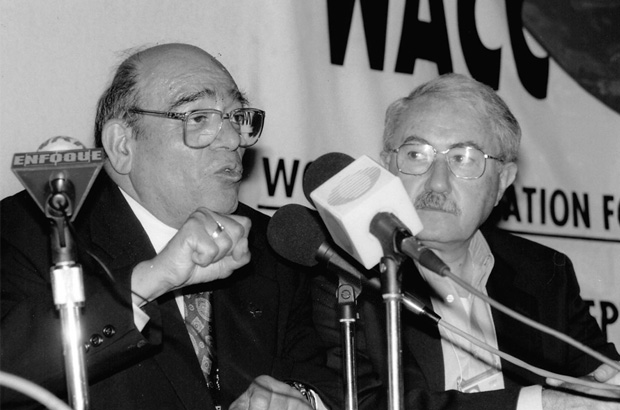 Carlos A. Valle (right) taking part in WACC's Congress 1995 together with Samuel Ruiz García (left), who served as bishop of the Diocese of San Cristóbal de las Casas, Chiapas, Mexico, from 1959 until 1999. Photo: Contributed
---
I would like to congratulate WACC on its 50th anniversary. It seems like only yesterday that we were in London celebrating our 25th anniversary. "As time goes by…" Today, this celebration is a good opportunity to share words of deep appreciation and gratitude to all those who during this time have served in this ministry of communication.
I would like to recall all those who has demonstrated willingness to assume diverse responsibilities, and especially the creativity and commitment of the staff and their ability to work as a team. This was my experience during the years I served WACC, and I can say the same for the work done during the following years of drastic change. I would like to express my sincere gratitude to all of them.
I offer to WACC my best wishes for a most prosperous future. At the same time, as you want to look forward, I would like to mention some of the lessons I have learned during my working time in WACC. These will be neither an evaluation nor a recollection of achievements or failures. In some cases, they came to reinforce previous convictions and in others they helped to discover new challenges. I shared some of these lessons in my last report to the Central Committee (July 2001) and I would like to say that they are still relevant.
The decisive role of communication
What WACC declared in Manila in 1989 during its first Congress could be repeated today "Communication is a crucial issue for the 1990s and for the future of humankind It can lead to reconciliation or destruction. It can bring knowledge and disinformation and lies." In the 21st century this is still true.
To speak of communication today is to understand what was affirmed in our first document on "Christian Principles of Communication" – its enormous capacity to create community, liberate and support and develop cultures. At the same time, we cannot ignore its dominant and oppressive potential that can be spread within systems led by profit and where the concentration of power in a few hands is on the increase.
What is at stake here in communication is the future of society, because at the heart of communication there is a constant struggle between humanization and dehumanization. This is a dilemma that is seen everywhere. As was mentioned in an evaluation report on the work of WACC, "In this global situation, the quest for a more just information and communication order continues to challenge us." So if this is our current reality, where are we as a Christian organization? Whom are we serving in our priorities?
Let me mention at least one example. The advent of the mass media was well received by the churches, although they expressed certain fears. For this reason, they tried to reduce the media to being instruments at their service, and they considered themselves suited to teaching their correct use. Furthermore, they had a strong mistrust of the audience, which, according to them, had to be protected, directed and controlled. Generally, paternalism leads to domestication.
Today, the biggest criticism levelled by the churches is that the media are taking religion's place in society. Among other things, religious language is being appropriated. New symbols, images and rites are being created and religious themes having no connection with organized religion are being developed.
We live in pluralistic societies where people's relationship with organized religion has been weakened, and yet spiritual needs appear more manifest. Is it possible and desirable to use media as new channels for expressing spiritual concerns? No simple answer can be given to this question. Many considerations have to be taken into account: media ownership, legislation, professional rivalry, economic interests, social and cultural mores, the media as a supermarket of religion, and many more.
We should keep in mind that communication is not offered to mass audiences. People receive, select and interpret messages from their own social and cultural viewpoints and, based on that interpretation, draw their own conclusions. For this reason, genuine Christian communication reveals an attitude of respect for the dignity of other people.
WACC as an ecumenical organization
In Budapest (1995), I shared with the Central Committee some thoughts about the theme "WACC and the Ecumenical Movement". I have nothing special to add to what I said on that occasion, except to stress some of the points mentioned. First, WACC cannot be understood in isolation from the ecumenical movement. It was born and nourished in it. Second, WACC should be grateful for all it has received from the ecumenical movement. WACC has been enriched in communication with other cultures, supported in times of adversity, shared common concerns for justice and peace, worked for marginalized people, women and youth, and learned to be together in solidarity. All those who for many years were active in WACC's life could give examples of many places in the world that have been – and still are – a challenge and stimulus in the life of the ecumenical movement.
Third, WACC's mission is at the frontier. The frontier is a place of encounter, an area of new territories. The communication frontier is an area of increasing links. At this frontier we, as Christian communicators, are committed to communication for human dignity. At this frontier we are called to be open to all communicators of goodwill who share this commitment, and work together, learning from each other, knowing that that there is no sharing without fellowship.
Forum and advocacy activities
When critical reflection has been abandoned in some places, it is important that WACC continues reflecting on those areas that are decisive for the future of a just and peaceful society. There is a long road to go. Injustices, concentration of power, increasing poverty, lack of real communication, are our daily bread in the world. Communicators need to be prepared to face all these challenges.
In this globalized free market economy, everything is presented as if it responded to fixed and inexorable natural laws. Nothing can be changed; all must be as it is. Nevertheless, this is not the last word. Communication is a challenging presence with a critical word that produces changes in the life of our world and its social structures. Communication should look for a world where the first priority is caring for and protecting the most defenceless in our societies. That means working so that people have a chance to express themselves, to react and protest; to dream and to share dreams; to strengthen their sense of dignity and to emphasise their right to full participation in the life of society.
Matters pending
Finally, I would like to make a brief reference to some of the permanent matters pending, because they have to be always present on the agenda.
Firstly, WACC's relationship with the churches. It must be possible to find a way to be closer to the churches. They need to know that they can count on WACC. The churches, whose communication work has always been essential to mission, do not always realize the very nature of today's communication.
Secondly, the importance of networking. It is necessary to be closer to all authentic communication; to have a closer relationship with the academic world, at the regional and global level; a closer relationship with women's initiatives. It is necessary to appreciate the responsible way in which women are carrying out their work in communication. Their ability to relate to each other, to establish networks and be involved in concrete form of actions in defence of their rights are remarkable.
Thirdly, to open doors to young communicators. Young people are, more and more, attracted by new technologies The number of young people who want to dedicate their energies to communication is constantly increasing. The training of future leaders will continue to be a high priority.
As was affirmed in the Mexico Declaration (WACC Congress1995), "To be human is to communicate. Communication makes relationship possible. Through communication humanity can intensify its struggle against dehumanization so that the oikumene – the whole inhabited world – may realize dignity and grace."
Carlos A. Valle, a Methodist minister from Argentina, was WACC General Secretary 1986-2001. A former President of INTERFILM, the Protestant film organization, Valle was a staff member of the ecumenical theological school, ISIDET, in Buenos Aires, where he taught various courses on communication, especially film and theology. Upon retiring, Carlos returned to Argentina to serve as a chaplain to students at ISIDET in Buenos Aries, where he continues to write on issues related to communication, to work for his church, and to take an active part in promoting communication rights and social justice. Valle has written several books, published in both Spanish and English. They include Comunicación es evento (1988), Comunicación: modelo para armar (1990), and Communication and Mission: In the Labyrinth of Globalisation (2002).