10 Mar 2015

Goodbye Sony: Sony Estéus passed away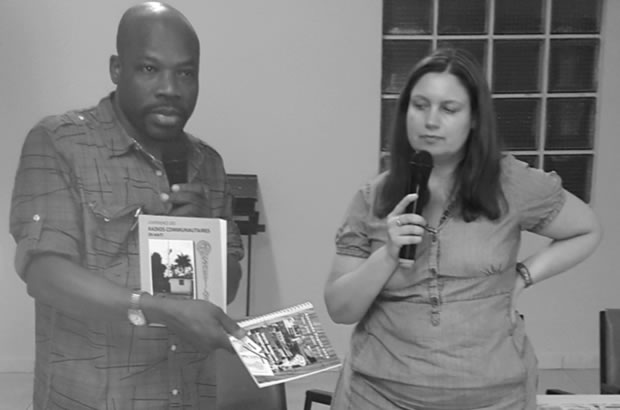 Sony Estéus passed in his native country Haiti on March 2nd 2015 at the age of 50.
Sony Estéus was among a large group of Haitian communicators whose names have been synonymous with community radio and social communications. As a social communicator in his creole speaking homeland, Sony advocated for communication rights long before it became fashionable. Today the role of social communications specialist is still under-rated. He stood out among his peers because he put his life on the line to defend sacred principles and in defense the creole speaking population of Haiti.
He had extensive involvement in media administration and also managing the link between the communicators in Haiti and the global community. He was part of several movements and initiatives in community radio and alternative media, including AMARC. He served many radio stations in Haiti.
Over the past few years he was deeply involved in WACC Caribe both as a professional social communicator and as a representative of his organization Society for the Promotion of Social Communications (SAKS).
Our most recent engagement with Sony was at the Regional Seminar and General Assembly of the WACC Caribbean region, which was held in Puerto Rico in January 2015. As usual he would make his interventions in his deliberate, unassuming yet profound manner, always redirecting our thoughts and actions to the true mission of Caribbean communicators – that is creating spaces for the exercise of communication rights of the grassroots. Sony spoke creole and he uplifted the creole language always.
He was generous and always sharing. In fact at the meeting in January he gave copies of the "Agenda Kreole" which is produced by SAKS. Se an langaj kweyol la Sony te kiltive an katchil ki te fon, kit te fondasyon philosophie radio konmunote.
His participation in meetings gave a little indication of the depth and breadth of his involvement in community radio in Haiti.
WACC Caribe is deeply saddened by the passing of Sony. This is a tremendous loss to his family. His passing has also created a void in the work of SAKS and the community radio movement in Haiti. We have no doubt that Sony's legacy will not be allowed to blow away like the dust on the crowded streets of Port-au Prince.
In our own way WACC Caribe will continue to celebrate his life and his contribution to the promotion of communication rights in the developing world.
The work of Sony Estéus will live on.
Embert Charles
Executive Member
WACC Caribe