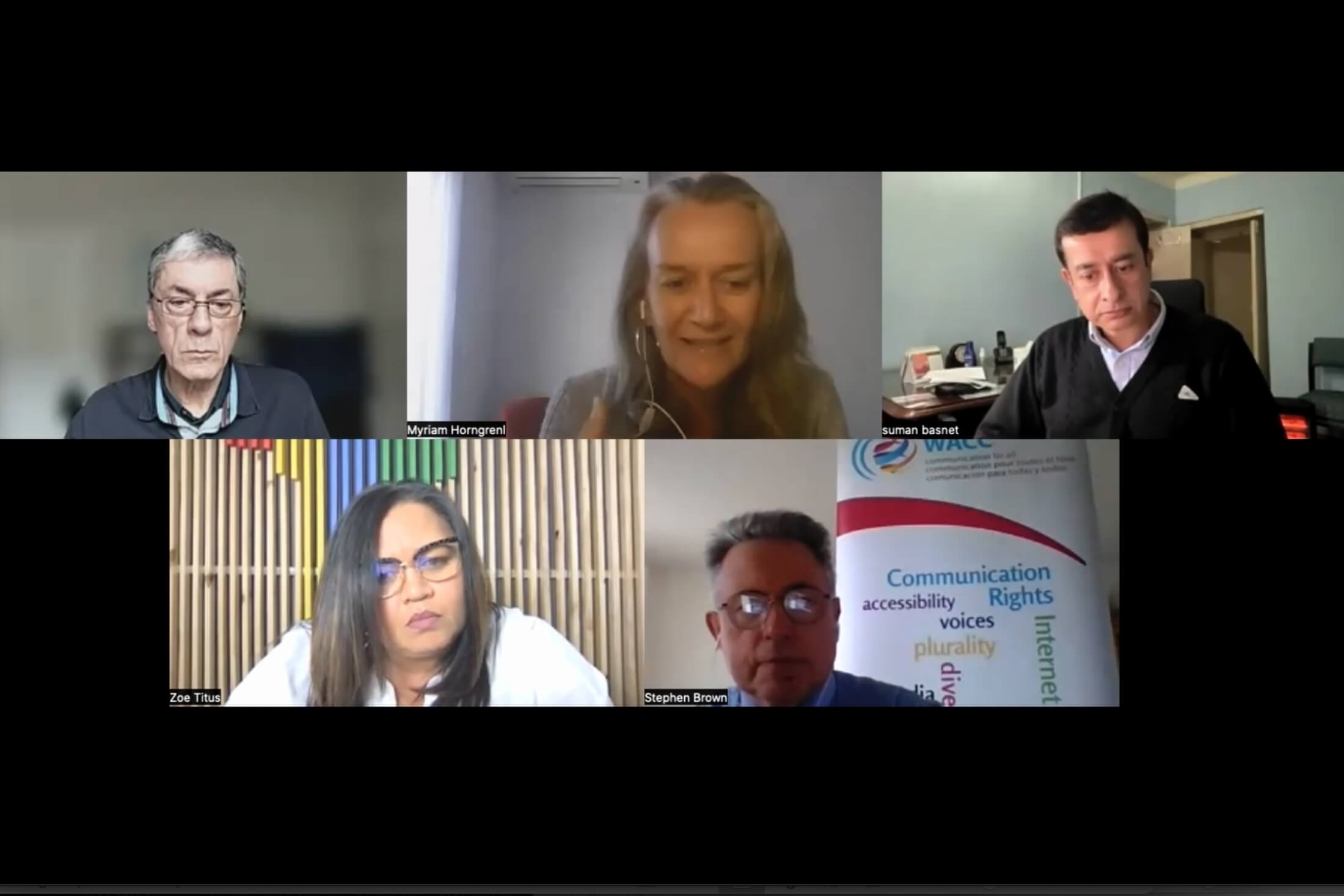 06 Apr 2023

Grassroots voices needed for impactful civil society statements

If communication rights advocates want to use statements to drive social change, they need to be clear about their motivations and build coalitions that include grassroots voices, panelists concluded at the WACC event "From Words to Action: Statements on Communication for a Better Future" on 3 April.

The virtual conversation circle brought in perspectives on how statements outlining ethics and actions could be used as a tool for advocacy and engagement as civil society, alongside governments and other stakeholders, look to the 20th anniversary of the World Summit on the Information Society (WSIS +20) in 2025.
Realizing unfulfilled expectations
Global communications have undergone a radical transformation in recent decades, but the democratization of communication articulated in civil society statements over the years remains a "persistent yet unattained vision," WACC General Secretary Philip Lee said in his introduction.
A recent issue of WACC's quarterly journal Media Development highlighted many of these unfulfilled expectations for a new world information and communications order, which have spiraled into the digital age, Lee noted.
In the WSIS+20 process, civil society is focused on building a democratic and inclusive information society, a necessary foundation to achieving the UN Sustainable Development Goals (SDGs). "What should we be doing in the next two years to turn some of these words into a reality on the ground?" Lee asked the panelists.
Vision and motivation
Social change strategist Myriam Horngren emphasized the need for unity and vision. In her work as coordinator of the civil society campaign Communication Rights in the Information Society (CRIS) in the early stages of the previous WSIS process, she helped articulate a discourse for the campaign, a "utopia" or "dream of what the internet could be." The campaign's founding document became a global roadmap for CRIS activists throughout the world, she said.
"Civil society was extremely united and organized" through CRIS, Horngren observed, and as such could act as a clear dialogue partner for governments.
Knowing your motivation and the action you want to take together is crucial, agreed Zoe Titus, director of Namibia Media Trust and chairperson of the Global Forum for Media Development.
She pointed to her experiences helping to develop the Windhoek+30 Declaration on information as a public good. Through this process and others, civil society learned to identify the critical issues and articulate common objectives.
Titus said these statements form part of a "record of history" in the public domain that articulates the "inspirations, needs, and desires" of communication advocates at that time but that can serve as a catalyst for collective action throughout the world.
Collective focus
To put words into action, a collective foundation must first be built, with all stakeholders taking ownership and committed to follow-up, stressed Suman Basnet, regional director of the Asia-Pacific chapter of the World Association of Community Radio Broadcasters (AMARC).
He cited the situation in Myanmar as an example of words not being translated into reality because organizations calling for change don't have the capacity to take action that brings tangible benefits to communication colleagues on the ground.
"It is vitally important that we make sure that a network or ecosystem is in place to help carry the text forward before committing to it," Basnet said, noting that such supportive networks need to be formed before even beginning to draft a statement. "We need to plan differently."
Defining the purpose of a statement could be part of the pre-drafting planning process, said Stephen Brown, editor of the World Council of Churches' journal Ecumenical Review and WACC Europe president.
Touching on his experiences with the European peace movement in the 1980s and more recently with the 2021 Manifesto "Communication for Social Justice in a Digital Age," Brown observed that statements could be used for different purposes — sometimes simultaneously — from documenting a meeting or positions, grabbing attention or calling for change to substituting for action, offering solutions or building coalitions.
He suggested that a first step might be to ask why one was drawing up a statement: "Is it for us, is it for the outside world, a bit of both? Is it to bring other people into the discussion who haven't been there up until now?"
A collective vision for change
Titus observed that the world faced a Kairos moment at present given the deep inequality and social injustice affecting societies. "There is a need for review. This is ideally what the WSIS can at least do in the context of communication."
Horngren called for civil society to envision a rights-based communication world as a way of mobilizing people to work for change. "You don't foster passion on fighting against, you foster passion on fighting for, on building a utopia."
The conversation circle going forward in this Kairos moment needs to be widened, Titus said. She urged attention to intersectionalities and a "renewed and very comprehensive and inclusive focus on grassroots voices," including youth and Indigenous peoples.
The key to multistakeholder participation and coalition building could be found in an inclusive approach, Lee said, pointing to the State of Civil Society Report 2023 from the global alliance Civicus.
"It seems quite evident that if statements are to continue to have real value, including the voices and opinions of informal grassroots groups voices is as important as those of established NGOs," he concluded.