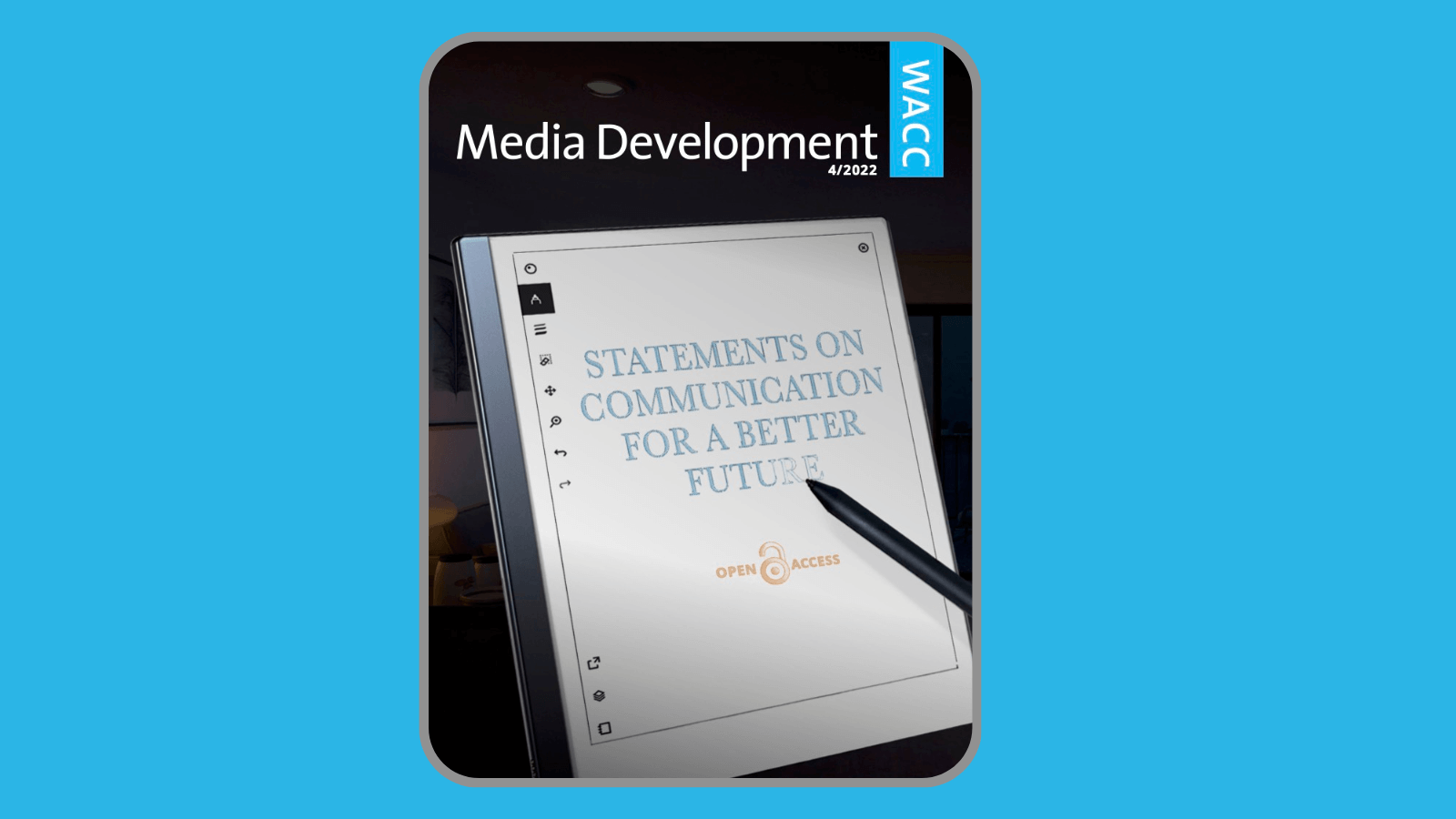 18 Nov 2022

New Media Development issue offers signposts for communication rights

The latest issue of Media Development, WACC's quarterly journal, brings together touchstone documents on communication for a better future from over nearly two decades.

The documents reveal a clear vision for the democratization of communication that has not yet been attained—and thus are a call for communication rights advocates not to waver in taking up the calls to action, writes Philip Lee, WACC general secretary, in his editorial.

"In the documents republished in this issue of Media Development, readers will be able to find most of the ethical, technical, and practical concepts, including key recommendations and actions, that might facilitate and guarantee communicative justice," Lee says.

The earliest of the documents, the Civil Society Declaration from the first World Summit on the Information Society (WSIS) in 2003, stresses that people rather than technology should drive social change: "It is people who primarily form and shape societies, and information and communication societies are no exception."

In Communication for All in 2012, WACC lifts up the role of inclusive and participatory communication in diversifying the public space, while the 2017 New York Declaration calls for steps to achieve gender-just communication.

Last year's Windhoek Declaration underlines the importance of a free and diverse press, transparency, and media literacy "to guarantee information as a public good that serves as a shared resource for the whole of humanity." Human rights must serve as the foundation of communication in the digital age argues the Copenhagen Pledge, also from 2021.

To bring these visions to fruition, "civil society interventions are desperately need," urges Lee. The statements' words call communication rights advocates to action—to raise public awareness, lobby governments, and "bring moral weight to bear on how to tackle the inequalities and injustices that prevent people from designing and achieving a better future."

Other documents in the 4/2022 issue include:
Reclaiming communication for life, justice and peace, Busan Communication Statement
Communication for Social Justice in a Digital Age, WACC, WCC et al.
Digital Justice: Manifesto: A Call to Own Our Digital Future, Just Net Coalition
The Public Service Media and Public Service Internet Manifesto, UNESCO
European Declaration on Digital Rights and Principles for the Digital Decade, European Commission
Una agenda de 20 puntos hacia un futuro digital justo y soberano, Internet Ciudadana
Subscribe to Media Development to stay abreast of recent developments in the theory and practice of communication around the world. Join WACC and receive a free subscription.