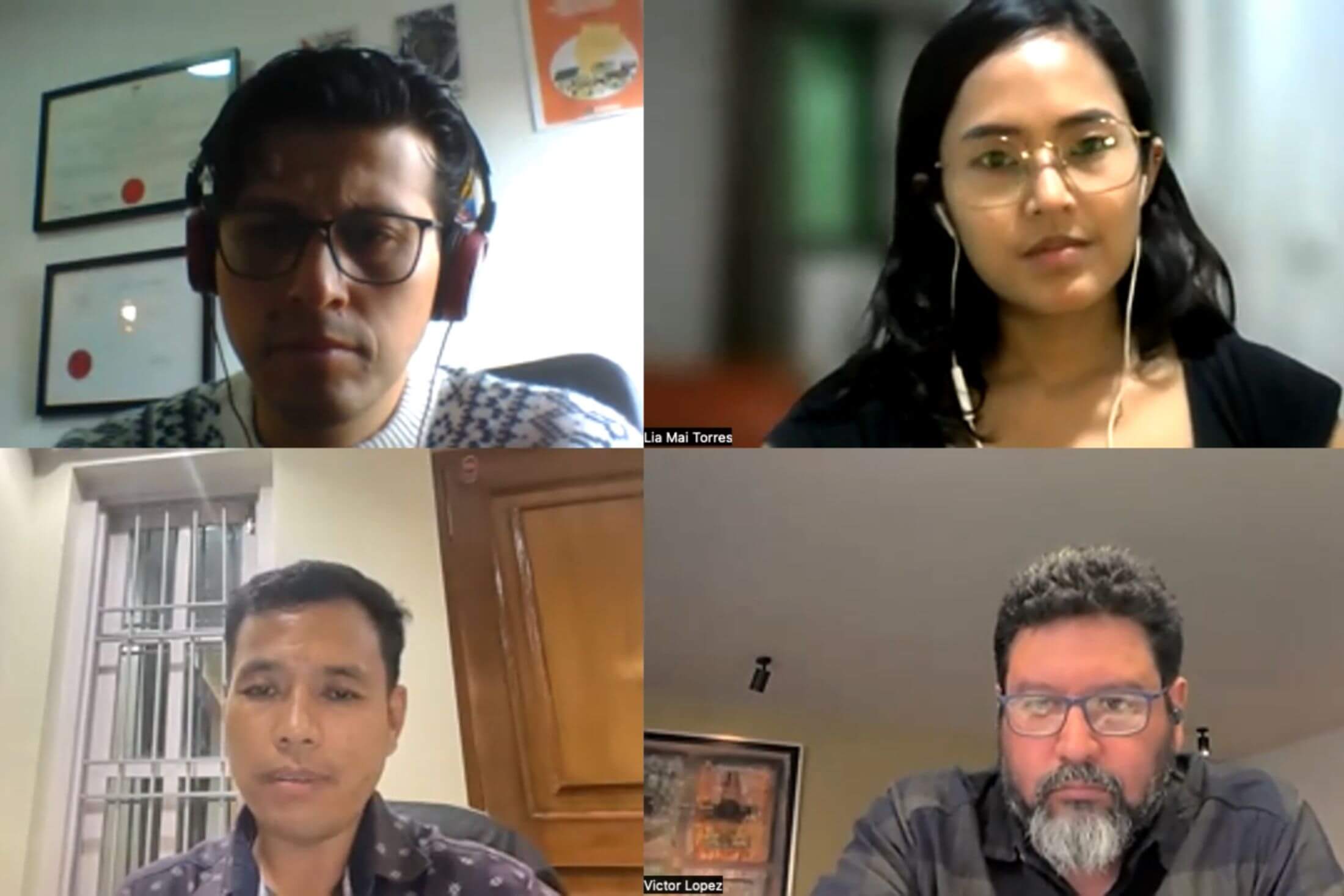 13 Oct 2023

Local voices hold the truth and the missing link to real climate action

Local voices and community-led climate action — rights-based and sustainable — hold the key to global climate solutions, concluded panelists at WACC's most recent Conversation Circle.

The online discussion "Local Climate Voices: The Missing Link to Real Climate Action?" on 11 October offered members and partners the chance to explore how the voices of local communities can contribute to meeting the global threat of climate change.

"We're talking about climate justice. There is a strong element of injustice in this equation," stressed moderator Lorenzo Vargas, WACC's Communication for Social Change program manager.

He highlighted that the communities that have contributed the least to climate change are the most impacted by its effects — and they are often not in a position to exercise their right to communicate and shape the public conversation around climate action.

"There is an element of communication and information poverty, communication and information deficits that don't allow people most affected by climate change to be seen and to be heard."
Local communities are responding to climate change.
The panel featured representatives from Indigenous peoples and local communities — including WACC partners — who are already taking action and making a difference.
In the Philippines, the Center for Environmental Concerns (CEC) is helping new climate voices to emerge from among population groups most vulnerable to climate change.
As climate education isn't offered in schools, many people find it challenging to articulate their experiences in a way that the government can hear, said CEC Executive Director Lia Mai Torres. With WACC support, CEC developed a climate curriculum rooted in traditional knowledge that equips fisherfolk, farmers, and Indigenous people to take action and to train others in their communities.

In Mexico and Central America, the Ford Foundation is backing collective rights efforts to challenge inequality in accessing, controlling, and benefiting from natural resources. Such inequality is intrinsically related to climate change and environmental degradation, said Victor Lopez Illescas, program officer for the region.
The Foundation and WACC are supporting local partner La Sandia Digital in Mexico to train land defenders in strategic communication.
Cultural Survival is using Indigenous-led community media and advocacy in Nepal to protect Indigenous peoples' rights, which are closely linked with climate change, land, and livelihoods, said Dev Kumar Sunuwar, Asia program coordinator.
WACC has partnered with Cultural Survival to support radio and TV programming about Indigenous traditional knowledge to address climate change and make information available in Indigenous languages.
Local climate voices counter misinformation and disinformation.
Panelists agreed that voices from the community take a lead in speaking truth to protect the environment and resist unjust policies and actions — all too often with lethal consequences.
Environmental defenders in the Philippines strive to bring to light the profit motives of development projects pushed by the government and business, projects that will harm the environment and have little benefit for local communities, Torres said.
It is the deadliest country in Asia to take on the role of bringing such information to the public. CEC is working to ensure environmental defenders won't be silenced, especially in relation to climate change impacts.
Protection is needed for these local voices, particularly Indigenous voices, in his region as well, Lopez Illescas said. Mexico and three countries in Central America figure among the ten countries worldwide with the most killings and attacks on land and environmental defenders. The Ford Foundation is supporting measures to keep them safe.[/vc_column_text][/vc_column][/vc_row]
"We as Indigenous media have been advocating to decolonize and to Indigenize the media.``
Local voices also counter misinformation about their own communities that impedes real climate action.
In Nepal, Indigenous peoples are often viewed — and portrayed by ministry media — as climate victims or as mere stakeholders, Sunuwar stressed, not as rights holders or as holders of traditional knowledge.
"We as Indigenous media have been advocating that there is a need to decolonize the media and to Indigenize the media, with more Indigenous journalists so that they can bring Indigenous communities' perspectives, in a true way, and portray them positively," he said.
At stake is the dominant discourse, Vargas agreed. "This is why we need grassroots media, our own media, to counter these narratives."
Local climate voices highlight gaps between local realities and higher-level decision makers.
"There is a disconnect [between] what we want to achieve and what is being imposed upon us" when it comes to development in the Philippines, something very much related to climate change, Mai Torres observed.
She recounted work with two fisherfolk women to communicate the likely negative impact of a proposed airport billed as an important part of development. The project was approved and resulted in people losing their lands and being displaced, forest being cleared, and greater flooding and storm surges causing much damage.
In another example, Mai Torres related how the prevailing discourse at the UN's official human rights review for the Philippines — that the government was taking climate action and addressing rights violations — conflicted with what CEC reported about climate impacts on local communities and attacks on climate activists.
"What we see on the ground is very different," she said, noting that in such international fora, local voices share the truth of what is happening in local communities.
"We need more support to bring out this information and put pressure on government to do climate action in the right way, with consideration for human rights."
Local climate voices bring climate justice solutions rooted in local knowledge.
"Local voices are important to bring visible and lasting solutions which are not only socially accepted but socially built from local knowledge," Lopez Illescas stated.
He added that such solutions include the traditional knowledge of Indigenous peoples and local communities around the world.
"Local voices are important to bring lasting solutions which are socially built from local knowledge."
Through living in close proximity with the land, Indigenous peoples have important knowledge about how to protect the environment, mitigate climate impacts, and farm in ways that are climate friendly, Sunuwar said.
He pointed to increasing awareness of the need for Indigenous peoples to be meaningful participants in global efforts to address climate change. "I believe that the International communities will take Indigenous voices seriously."
Local climate voices hold policymakers accountable.
Strong and active local voices are key to keeping pressure on national governments and other powerful actors driving climate action, according to Lopez Illescas.
"Hold governments and international institutions accountable to respect their commitments and to be coherent in terms of balancing respect of rights with feasible and lasting climate action."
He stressed that global solutions need to have a clear connection to the formal rights and agendas of local communities, led by their governing authorities.
Vargas agreed that local voices must push for coherent policy. "You can't promote climate adaptation on one hand and with the other be financing oil extraction."
The importance of local voices in ensuring accountability can be seen in the establishment of a Loss and Damage Fund during the COP27 last year, which Vargas noted was the result of "years and years of advocacy" to gain financial compensation by countries in the Global North to countries in the Global South for the severe impacts of climate change.
Local climate voices inspire hope.
"The inspiration for addressing climate change really comes from the communities," said Torres, returning to the story of the fisherfolk women who fought in vain to stop the airport project.
The women met again in CEC's climate curriculum project. At first, "they were crying with frustration," Torres related. But as they were trained as trainers in climate action, there was a radical shift — to a determination to continue working for change despite the risks of harassment, further displacement, and physical harm.
Saying "we don't want that to happen to other communities; we want to continue struggling," they continued to organize climate action with other communities.
"The inspiration for addressing climate change really comes from the communities."
"When [people] are presented with opportunities and know there are other people supporting them, they will have courage. That will cause a ripple effect and hopefully become a strong united movement," Torres said.
Lopez Illescas said he draws on the example of local communities working vibrantly and bravely for change in a region historically dominated by a small oligarchy.
"We can see how the strong voices of those marginalized communities, particularly Indigenous communities, remain very, very active. Not only resisting but also proposing more fair and even more feasible solutions to local problems, development problems, including tackling the effects of climate change."
(Clockwise from upper right) Local climate voices at the Conversation Circle with panelists Lia Mai Torres (Philippines), Victor Lopez Illescas (Guatemala), and Dev Kumar Sunuwar (Nepal), and moderator Lorenzo Vargas (Colombia/Canada).