09 Aug 2018

Media Development 2018/3 Editorial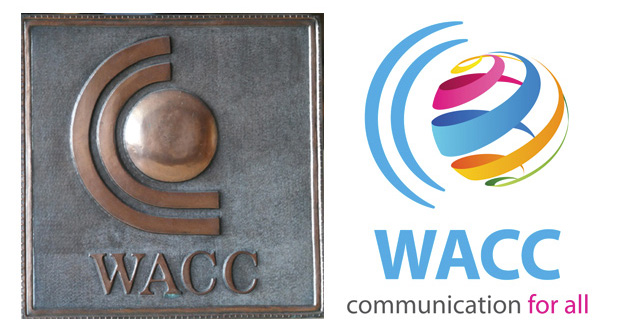 WACC's old emblem (left)—a monochromatic concept of communication wrapped around the globe—is reflected in its current multicoloured logo and its remarkable slogan "Communication for All".
---
"What the churches say about communication is not half as important as what they do," wrote Michael Traber in the editorial of the 1/1984 issue of WACC's journal Media Development. Its theme was "Church Statements on Communication" and it included "Communicating Credibly" – the declaration of the 1983 Vancouver Assembly of the World Council of Churches (WCC).
As Traber concluded, "Looking at the World Council of Churches' statement and other documents on communication, one gets the impression that the churches have at long last made a start on an adventurous journey through the varied and fast changing landscape of the world of communication."
In some ways, much the same could have been said of the secular world of communications. In 1980, UNESCO published the MacBride Report, its international study of communication problems optimistically subtitled "Towards a new more just and more efficient world information and communication order".
Seán MacBride, who chaired the commission that produced the report, noted in its preface, "As communication is so central to all social, economic and political activity at community, national and international levels, I would paraphrase H. G. Wells and say human history becomes more and more a race between communication and catastrophe." Nearly 40 years later, that insight has lost none of its relevance.
So what has WACC – an international non-governmental organization founded by faith-based entities in 1968 – to say about today's world of communications? In essence, its problems and solutions stem from violations of human dignity and human rights. Questions of inclusion or exclusion, accessibility and affordability. More than that (as is excruciatingly relevant today), it is all about credibility and responsibility.
As the WCC's Vancouver declaration underlined, "Many of us have become cynical about sources of information and there is a special urgency in our search for credibility." Does the communication affirm or exploit people? Does it make peace, build justice and promote wholeness? Does it respect the reality of pluralism and provide for the voicing of different views? Does it avoid quick judgements?1
Most communication researchers and practitioners today are familiar with the concept of communicative action put forward by sociologist Jürgen Habermas and the capability approach elaborated by economist Amartya Sen. Both stand on principles of a shared human dignity: a view of ordinary people being able to exercise practical choices in order "to achieve outcomes that they value and have reason to value."2
But for people to be able to change and improve their lives, to claim rights and entitlements, their communication rights must be recognized and guaranteed. Communication rights are aptly described by Pradip N. Thomas as "a scaffolding for an engagement with key communication deficits and a framework for the exploration of solutions in different contexts around the world."3
Is there moral equivalence between the worldviews of Habermas and Sen and WACC's credo of "Communication for All"? Paulo Freire, who argued that "If the structure does not permit dialogue, the structure must be changed", would say yes:
"The radical, committed to human liberation, does not become the prisoner of a 'circle of certainty' within which reality is also imprisoned. On the contrary, the more radical the person is, the more fully he or she enters into reality so that, knowing it better, he or she can transform it. This individual is not afraid to confront, to listen, to see the world unveiled. This person is not afraid to meet the people or to enter into dialogue with them. This person does not consider himself or herself the proprietor of history or of all people, or the liberator of the oppressed; but he or she does commit himself or herself, within history, to fight at their side."4
In recent years, public dialogue has turned towards the moral and spiritual imperative of ending poverty, towards dignity for migrants and refugees, towards a shared pilgrimage of justice and peace, and towards an international partnership on religion and sustainable development.
Whatever future direction such dialogue takes, in the year of its 50th anniversary WACC's own "adventurous journey through the varied and fast changing landscape of the world of communication" is set to continue.
Notes
1. "Communicating credibly" – declaration of Vancouver assembly of WCC" in Media Development 1/1984, p.7.
2. Sen, Amartya (2001). Development as freedom, p. 291. Oxford University Press.
3. Pradip N. Thomas (2011). "A Brief History of Communication Rights" in Negotiating Communication Rights: Case Studies from India, p. 5. Sage Publications.
4. Paulo Freire (1970/1993). Pedagogy of the Oppressed, p.39. 30th Anniversary Edition. Continuum.