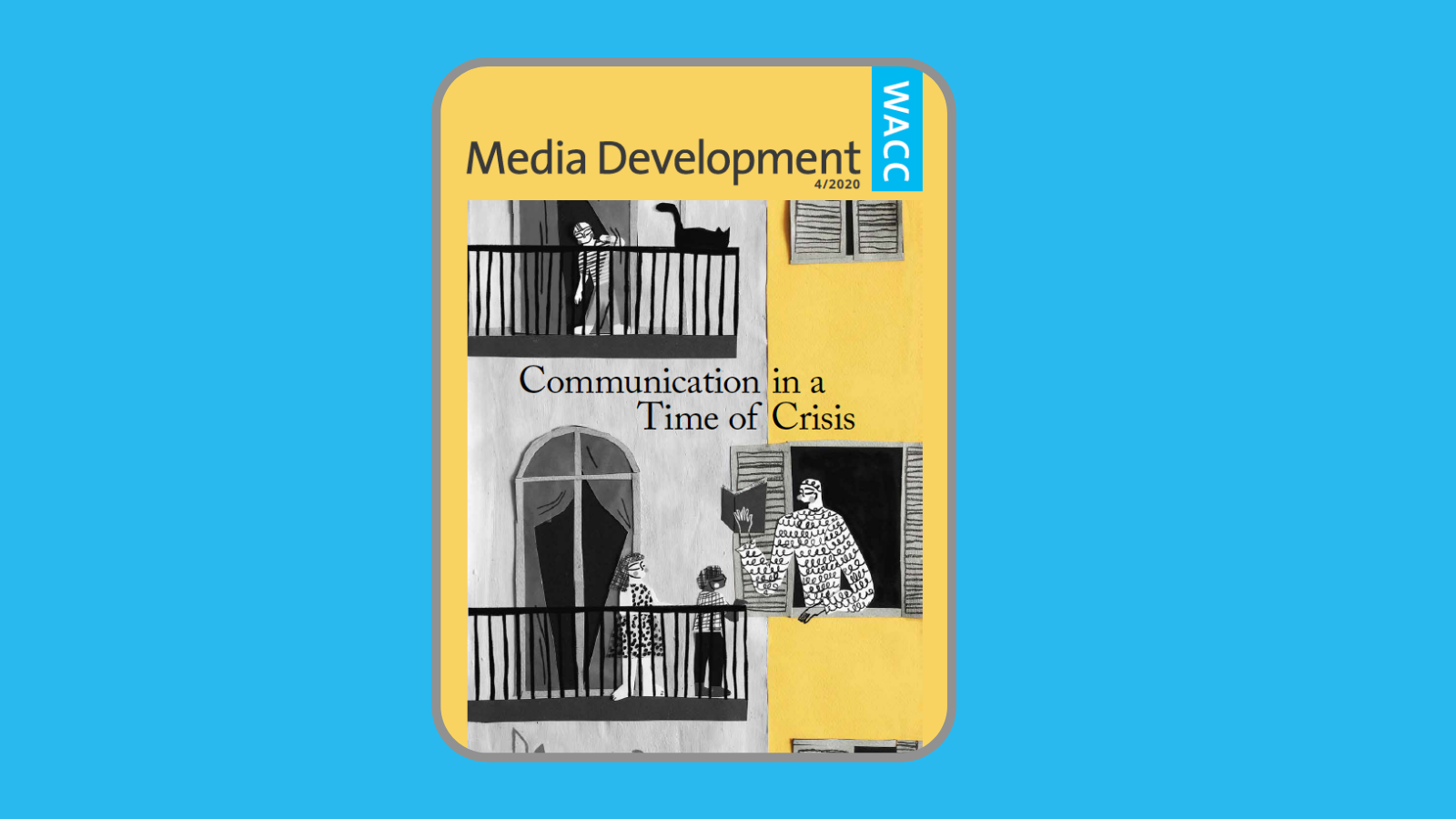 30 Nov 2020

Media Development's new issue tackles 'Communication in a Time of Crisis'

After a challenging year dominated by the ongoing Covid-19 pandemic, the latest issue of Media Development, WACC Global's quarterly journal, examines "Communication in a Time of Crisis." 

Articles in the issue range from Covid-19 related misinformation to reflections on the impact of the pandemic on human behaviour.  

While public service media sought to provide accurate, trustworthy and life-saving information about the coronavirus, they also had to "contend with government confusion, ineptitude, and in some cases, denial," notes Philip Lee, WACC General Secretary and Media Development editor, in his editorial. "Mixed messages regularly appeared in the mass media together with rumours, distortions and lies on social media." 

In contrast, Lee adds, community media (especially radio) in the global South "took the lead in supplying information that was more reliable." He notes that "development experts have long understood community media's edge when it comes to tackling misinformation and mistrust. Community media also have the ear of the people." 

In "Actions, consequences, remembrances: Reflections on the coronavirus pandemic," Irish essayist Chris Arthur looks at how the crisis has affected him and others. He offers key observations, including how the pandemic has magnified inequalities, vulnerabilities, and our reliance on others.  "The pandemic has caused the rhythms of ordinary life to be suspended…Whilst this has had the potential to foster a sense of isolation – or entrapment – it's also led to a realization of the extent to which we're reliant on others," he writes. "How would we live without key workers in farming, transport, shops, banks, post offices?"  

Journalist and WACC board member Mathilde Kpalla wonders whether as a result of the pandemic humanity will question its habits, patterns of consumption and systems in place which privilege the individual in her article, "Covid-19: Le déchaînement des crises."  

In the article," En México, la pandemia silenció las voces de las personas migrantes y refugiadas,"  journalist and communicator Marie-Pia Rieublanc, of La Sandia Digital, a WACC partner, discusses the exclusion of migrants and refugees in Mexico's Covid-19 response.  

The issue also includes:  
Covid-19, social exclusion and digital inclusion, by Philip Lee

 

Advocating a gender-equal post-pandemic world, by Marites Sison

 

Hacia

dónde

mirar

en

tiempos

de crisis y

pandemias

, by Leonardo F

élix 

 

Battling the "pandemic of misinformation," by Christina

Pazzanese

 

 
Intersectionality, community, and memory of a just future, Glory E. Dharmaraj

 

Covid-19:

Aquellos

efectos

adversos

de los que no se

habla

, David Morales Alba 

 

Covid-19 en la

isla

y sus

repercusiones

,

J

ó

se

Luis Soto

 

Internet, una

aliada

para

garantizar

los derechos

humanos

durante

crisis Covid-19,

by

Article 19

 

How innovative news outlets are meeting the needs of immigrant communities, by Center for Community Media

 
The Internet is becoming a battlefield, by Dav

í

Nelson Betts 

 

Repensando

la

comunicacion

ecumenica

desde

el

legado

de las

comunidades

profeticas

, by Rolando P

é

rez 

 
 Subscribe here, or join WACC to get timely access to Media Development.