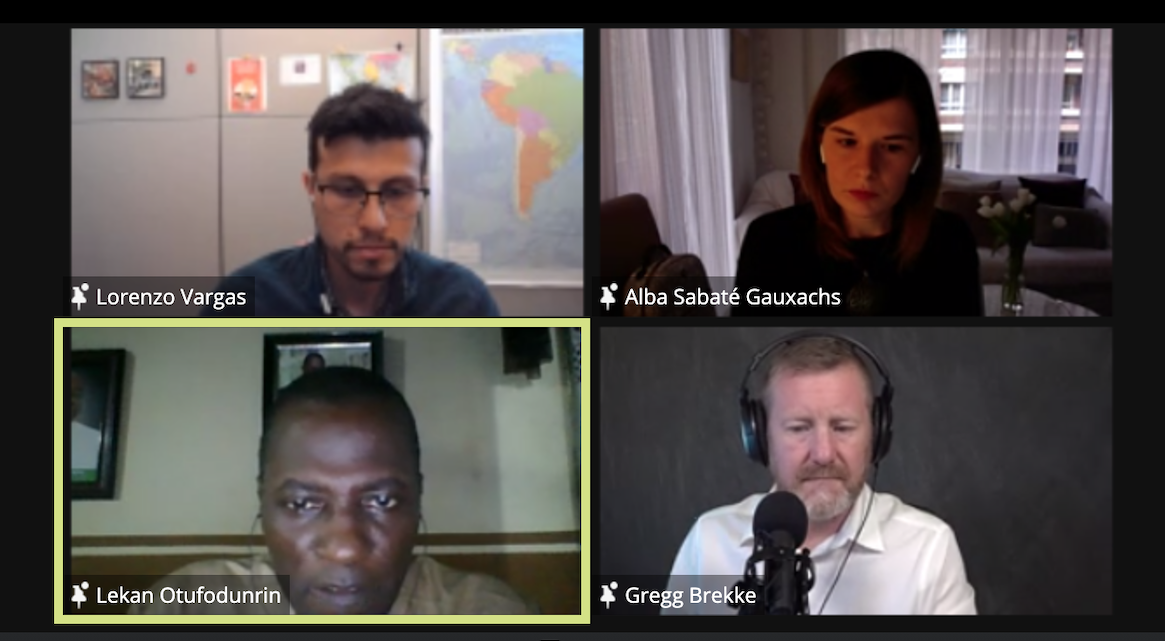 09 Apr 2021

Media narratives shape public attitudes towards migrants, says WACC panel

Migrants are struggling to have their voices heard, whether in Europe –  where far-right populist parties are stoking a backlash against migration—  or in Asia, Africa and South America, where they face growing xenophobia and negative portrayal in the news media,  WACC panelists told an online discussion held April 8 at the Religion Communicators Convention.

"As immigration increases in Europe, the representation of far-right parties in European Parliament also increases.  This is very concerning for us," said Alba Sabate Gauxachs, WACC Board member and professor at the Ramon Llull University in Barcelona, during a presentation on "Enabling Migrants to Have Their Voices Heard." The session was part of "Opening New Portals, Building Community," the joint online convention of the Associated Church Press, the Religion Communicators Council and the Canadian Christian Communicators Association.

Gauxachs referred to Pew Research data in 2018 showing how populist parties and movements have disrupted the political landscape in Europe by focusing on anti-immigrant sentiments; she also showed photographs of politicians in newspapers who use the term "invasion" when referring to migration. "We're talking about a continent…in which media is highly secularized," and where business interests of media owners can affect narratives,  she noted. She added, "What is the limit between hate speech and freedom of speech is a very, very big and wide debate in Europe right now."

Compounding the issue are social media, which she characterized as a double-edged sword – emancipatory on one hand, but also facilitating disinformation, hate speech and fake news on the other.  Digital platforms have also given rise to "fast journalism," where rigorous fact-checking is not the norm, she said.

Gauxachs also referred to Refugees Reporting, a research project by WACC Europe and the Churches' Commission for Migrants in Europe, which examined how media in seven European countries portray refugees and how refugees could better represent themselves in the news.  Published in 2017, the study revealed "general patterns of invisibility and misrepresentation" of refugees.

Meanwhile,  Lekan Otufodunrin, Secretary of WACC Africa and President of Journalists for Christ, shared the results of a WACC-supported project in 2018, which monitored how Nigeria's news media covered Internally Displaced Persons (IDPs).

"The media reported on IDPs, but what they were reporting was very superficial," he said, noting how they ignored the voices of refugees and relied on statements from government officials. There was no coverage of deeper issues such as lack of basic amenities, sexual harassment, health conditions of refugees who have faced emotional and physical trauma, and human rights abuses, he added.

Journalists need to be trained so that they can "adequately understand" issues involving refugees, he said.  The project monitored articles in six newspapers and two online news sites in Nigeria between May to June 2018.

Rey Asis, Programme Coordinator for Advocacy and Campaigns, Asia Pacific Mission for Migrants, and WACC Asia member, was not able to take part in the discussion, but sent a video presentation in which he noted the importance of working with migrant organizations as partners.

Asis also shared a WACC Asia study on undocumented Bangladeshi, Indonesian and Filipino migrants which showed that they are "deliberately silenced or preferably unheard," and are often portrayed negatively in media and by governments.

Lorenzo Vargas, WACC Program Manager for Communication for Social Change, discussed a WACC project, Among Neighbours: Network of Colombian and Venezuelan Citizen Journalists – which aims to meet the information and communication needs of Venezuelan migrants to Colombia. "What we decided to do was to work with community radio stations, especially in the border regions that are far away from other sources of media; these are remote communities where migrants are," he said.

There are now about 1.7 million Venezuelans in Colombia, said Vargas, noting that migration was initially driven by the middle class fleeing the economic crisis. "But now, it's increasingly the vulnerable population, people who don't have the highest levels of education and who have been forced to leave because of lack of work."

The three-year project involves establishing alliances with 22 radio stations, 18 of them in the border region, and six in the capital city Bogota, the main destination for migrants. A network of 14 Catholic radio stations and campus radio stations are also involved in helping to address xenophobia against migrants by promoting inter-cultural dialogue. Radio content produced by the network "actually focus on what brings people together," said Vargas. "We found that culture has played a huge role, so there are stories that focus on shared identities, shared stories, shared food, shared music. And that has been extremely powerful."

The project is being implemented by WACC partners Grupo Comunicarte and Fundacion Comunicacion Positiva. "It's an incredible group of people who are both Venezuelan and Colombian, who are just really engaged, really committed to this work," said Vargas. "Even throughout the pandemic and facing all sorts of issues in Venezuela with there not being enough electricity, or reliable of electricity and power, they keep producing content and interviewing their communities."

The project, which ends this year, has been supported by WACC Global and the Evangelical Lutheran Church in America (ELCA).