19 Feb 2017

On the Screen (MD2017-1)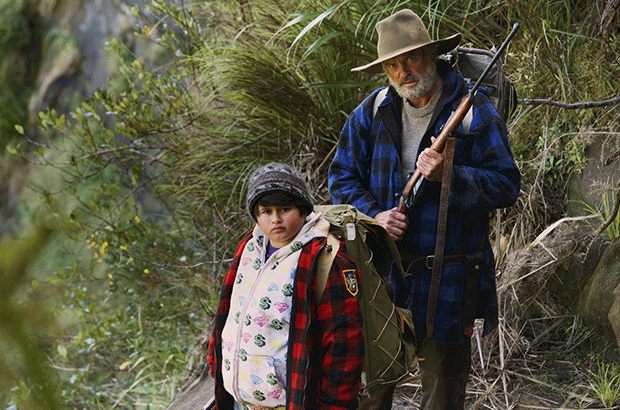 Photo: Contributed
---
Chemnitz (Germany) 2016
An Ecumenical Jury awarded prizes for the first time ever at the 21st International Film Festival for Children and Young Audience "Schlingel" (26 September to 2 October 2016), strengthening the support of INTERFILM and SIGNIS for films for children and youth. Previously, the only ecumenical jury at a film festival for children and youth was in Zlín (Czech Republic), which is the oldest of its kind, founded in 1961.
The prize winner of the Ecumenical Jury at Chemnitz was Hunt for the Wilderpeople (still below), directed by Taika Waititi (New Zealand, 2016), which also won the Junior Film Award. A Commendation was awarded to the children's film Meester Kikker (Mr. Frog), directed by Anna van der Heide (Belgium, Netherlands, 2016).
The European Children's Film Award went to Korunní Prince (Crown Prince) by Karel Janák (Czech Republic, 2015). Several prizes were awarded to the Vietnamese children's film Tôi Thấy Hoa Vàng Trên Cỏ Xanh (Yellow Flowers on Green Grass) by Victor Vu (Best Child Actor, Main Award of the Department of Private Broadcast and New Media of the Saxon Free State, Commendation of the Children's Film Jury).
Buffalo Rider by Joel Soisson (USA, Thailand 2015) was awarded the Prize of the City of Chemnitz and My Name is Emily by Simon Fitzmaurice (Ireland 2015) won the Award of the Youth Film Jury.
The "Schlingel" festival has been organised by the Saxon Service for Children and Youth film in Chemnitz since 1991, in cooperation since 2006 with the State Institution for private broadcasting and new media of Saxony.
Kiev (Ukraine) 2016
At the 46th Molodist International Film Festival (October 22-30, 2016) the Ecumenical Jury, appointed by INTERFILM and SIGNIS, awarded prizes in the competition for full-length films, short films and student films.
The award for best full-length film went to Keeper, directed by Guillaume Senez (Belgium, Switzerland, France 2016).
Motivation: A film about a girl and a boy, normal school things, music, football trainings and the possibility to proceed towards a professional level. And pregnancy, which puts their life in a new position: what to do, what decisions have to be made, and by whom? The film approaches the complex question of pregnancy in teenage. Especially in this case from the boy´s perspective. How to meet the demands to become a father and get his own voice to be heard. The path of life can give a new direction.
The award for best short film went to Ascensão (Ascension), directed by Pedro Peralta (Portugal 2016).
Motivation: In the misty dawn a group of villagers tries to rescue the body of a young man who has drowned in a well. The body is laid down to his mother's lap. From that moment onwards the mystery of awakening both the young man and the morning catch the viewer's attention. A very poetic film full of symbols and metaphors challenges the viewer to interpret both the mystery of death and life of human beings, nature, and to reflect Biblical references. Extremely detailed filming with colours, sounds and movements keeps the viewers in grip from the beginning to the very end.
The award for best student film went to Esel (Carry On), directed by Rafael Haider (Austria, 2015).
Motivation. An old married couple lives on an isolated farm with their animals. Especially the old donkey is important for the husband. Losing it is harder than he could imagine. With a humoristic touch the film describes the importance of the presence of both human beings and animals and the simple connection with nature. Without too many words in the film viewers, both old and young, can feel the deepest longing of love.
Members of the 2016 jury: Ninfa Watt, President (Spain); Volodymyr Krachuk (Ukraine); Juha Rajamäki (Finland).
Lübeck (Germany) 2016
At the 58th Nordic Film Days Lübeck (November 2-6, 2016) the INTERFILM-Jury awarded the Church Film Prize, endowed with €2500 by the Churches of Lübeck to Rosemari directed by Sara Johnsen (Norway, Denmark, Germany, 2016).
Motivation: The INTERFILM Jury awards its Prize to an intelligent, witty and complex film about motherhood, longing and reconciliation. 16 year old Rosemari does not know who her mother is, goes on a search for her roots and finds unexpected things, which in the end give her life a new turn. This film tells a never before told story about the mother-daughter relationship. The story is about why birth and giving birth is important and does not happen in life only once.
Synopsis: Unn Tove marries the wrong man. During her wedding reception, a baby is born in the bathroom of the restaurant. Unn Tove finds the newborn girl and turns her over to the authorities. The two meet again 16 years later. Unn Tove is now the mother of two daughters and works for a local broadcaster. Rosemari is trying to track down her birth mother. Unn Tove decides to help the young woman in her search and shoot a report about it. On their journey across the country, they are confronted with issues of motherhood and love. In the end, Unn Tove is faced with the decision of whether or not to tell Rosemari the truth, and of how to handle her own love life.
Members of the 2016 Jury: Astrid Baar, Germany; Poul Martin Langdahl, Denmark; Ylva Liljeholm, Sweden (President); Christoph Rehmann-Sutter, Switzerland.
Leipzig (Germany) 2016
At the 59th International Leipzig Festival for Documentary and Animated Film (31 October to 11 November 2016) the Interreligious Jury, appointed in collaboration with DOK Leipzig by INTERFILM and SIGNIS, awarded its Prize in the International Competition Long Documentary and Animated Films to Cahier Africain directed by Heidi Specogna (Switzerland/Germany 2016).
Motivation: Cahier Africain (still below) by Heidi Specogna on the ongoing atrocities between different religious and ethnic groups in the Central African Republic centres on the lives of Arlette, a young wounded Christian girl and the Muslim woman Amzine with her daughter born after brutal rape. Amidst the desperate situation Amzine manages to find a fragile safety as refugee in Chad. There the rift between mother and daughter starts to heal.
The Interrreligious Jury congratulated the filmmaker on her sensitive approach to her protagonists, her poetic filming and for leaving us with a glimmer of hope through the images of the women rebuilding their lives.
The Prize is endowed with €2500, donated by the Interreligious Roundtable Leipzig and the VCH-Hotels Germany GmbH in the "Verband Christlicher Hoteliers e.V." including the Hotel Michaelis in Leipzig.
Members of the 2016 Jury: Annet Betsalel, Bussum (The Netherlands); Thomas Bohne, OR, Leipzig (Germany) – President; Irina Grassmann, Frankfurt a/M (Germany); Gürcan Keltek, Istanbul (Turkey).
Berlinale 2017
The 2017 Berlin Festival will feature Indigenous films from the Arctic Circle. "A Journey into Indigenous Cinema" will focus in 2017 on Indigenous cinema from the Arctic. The film programme for the special series, comprising nine short and ten feature-length films, will be complemented by a number of events featuring discussion and other spoken word formats.
NATIVe 2017 will open with a film from the cultural sphere of the Sámi, Europe's only Indigenous people: Kuun metsän Kaisa (Kaisa's Enchanted Forest), by Finnish Skolt Sámi director Katja Gauriloff.
The film tells the story of Gauriloff's charismatic great-grandmother Kaisa. This personal and poetic documentary film effortlessly weaves original film and sound recordings from the 1930s to the 1970s together with animated sequences and folk tales of the Skolt Sámi. It is a testament to the eventful history of the Skolt Sámi and their struggle to preserve their unique culture in the wake of resettlements brought about by shifting borders throughout the course of the 20th century. ν
The voice of the people is all very well as long as it can be ignored. While official archives and libraries are subject to authoritarian control, while newspapers can be relied upon to reflect the views and opinions of those in power, and while radio and television can be manipulated, people's voices and images can be edited and censored. But with the arrival of the Internet and digital communication platforms, all that has changed.
The traditional guardians of collective memories were state institutions, official historians, and newspapers of record. Collective memories and their social construction were vital to how nations saw and represented themselves, a process that demanded inclusion and omission. And, as Benedict Anderson noted in Imagined Communities, "All profound changes in consciousness, by their very nature, bring with them characteristic amnesias. Out of such oblivions, in specific historical circumstances, spring narratives."
Who imagines, writes, or fashions these narratives? And in that process, who is forgotten or omitted? Paul Connerton has articulated seven kinds of ideological forgetting: "repressive erasure" (obliteration, destruction, editing out); "prescriptive forgetting" (erasure believed to be in the best interests of all parties); "forgetting that is constitutive in the formation of a new identity" (forgetting is not a loss but a gain that facilitates new beginnings); "structural amnesia" (the tendency to forget links that are socially undesirable); "forgetting as annulment" (flowing from a surfeit of information, discarding or storing vast quantities of data); "forgetting as planned obsolescence" (discarding as a vital ingredient of consumerism); and "forgetting as humiliated silence" (collusive silence brought on by collective shame).
Thinking about these kinds of forgetting in the context of traditional mass media and social structures operated by the state, it quickly becomes apparent that collective identity is firmly and often irrevocably founded on edited versions of national history, on ideologies that are biased or detrimental. In contrast, the potential of today's digital media lies in their ability to challenge dominant narratives. As the editors of On Media Memory: Collective Memory in a New Media Age note:
"Phenomena such as the increasing use of YouTube as an accessible archive of popular and elite/establishment memory, the unprecedented availability of online databases offering media-based documentation of the past, the ease with which conflicting representations of the past can now be evaluated and compared, alongside the ease with which distorted or even fabricated versions of the past can now be created and disseminated – all require a comprehensive inquiry into the ever-changing relations between mass media and the recollection of the past."
The explosion of digital media has created a global scenario in which there are now thousands of competing narratives or "memories" of any happening. They can take the form of personal memories (audio and video recordings, blogs, photos, Instagrams, recollections and histories, and anything that can be uploaded and given permanence in the digital sphere.)
Then there are radio, television, and newspaper corporations – national and global, private, commercial and government – all creating their own versions of day to day events. These historians of the mundane bring their own ideological and editorial take to every aspect of political and social life. So that when it comes to sorting out fact from fiction, reasoned opinion from pure speculation, there is more information than ever, much of it more accessible than ever. The field of collective memories can easily turn into a quagmire of discord and dispute.
Consequently, as the editors of On Media Memory: Collective Memory in a New Media Age also point out:
"The fundamental role of collective memories in the formation of modern national identities, the rise of mass culture and mass politics, and the development of new communication technologies have all led to the current state, in which the right to narrate the past is no longer reserved for academic and political elites. Nowadays, major historical events gain their public meaning not only through academic and state-sponsored interpretations but also through television, films, and the press."
The right to memory
Logically, the right to memory is a basic human right, as is the right to forget. At the level of the individual, remembering or forgetting are often coloured by questions of privacy and human dignity. At the level of a collectivity, such issues are not so clear cut. Collective memories are often bitterly contested, with claims and counterclaims by imagined political communities (Anderson's definition of a nation but by extension communities within a nation).
Today, these include imagined digital communities (imagined because their members mostly will never know, meet or hear their fellow members, yet they still picture themselves as part of a coherent entity.) Such digital communities have a communicative power unknown before the invention of the Internet, although their potential for organization and bringing about political and social change is still being tested.
In this context, the choice of what is recorded in the public memory and the way it is represented is not neutral, but takes place in accordance with predetermined policies and mind-sets. This politics of remembering (or consigning to oblivion) constitutes a power struggle in which justice is almost inevitably compromised.
Aided and abetted by digital technologies, it falls to civil society to be the defender and spokesperson of history and public memory. In this way, the right to memory becomes synonymous with the right to justice. ν
References
Anderson, Benedict. Imagines Communities. Reflections on the Origin and Spread of Nationalism. London: Verso, 1983, revised 1991.
Connerton, Paul. "Seven types of forgetting". In Memory Studies 1 (1). Sage Publications, 2008.
On Media Memory: Collective Memory in a New Media Age, ed. by Motti Neiger, Oren Meyers, and Eyal Zandberg. Palgrave Macmillan, 2011.