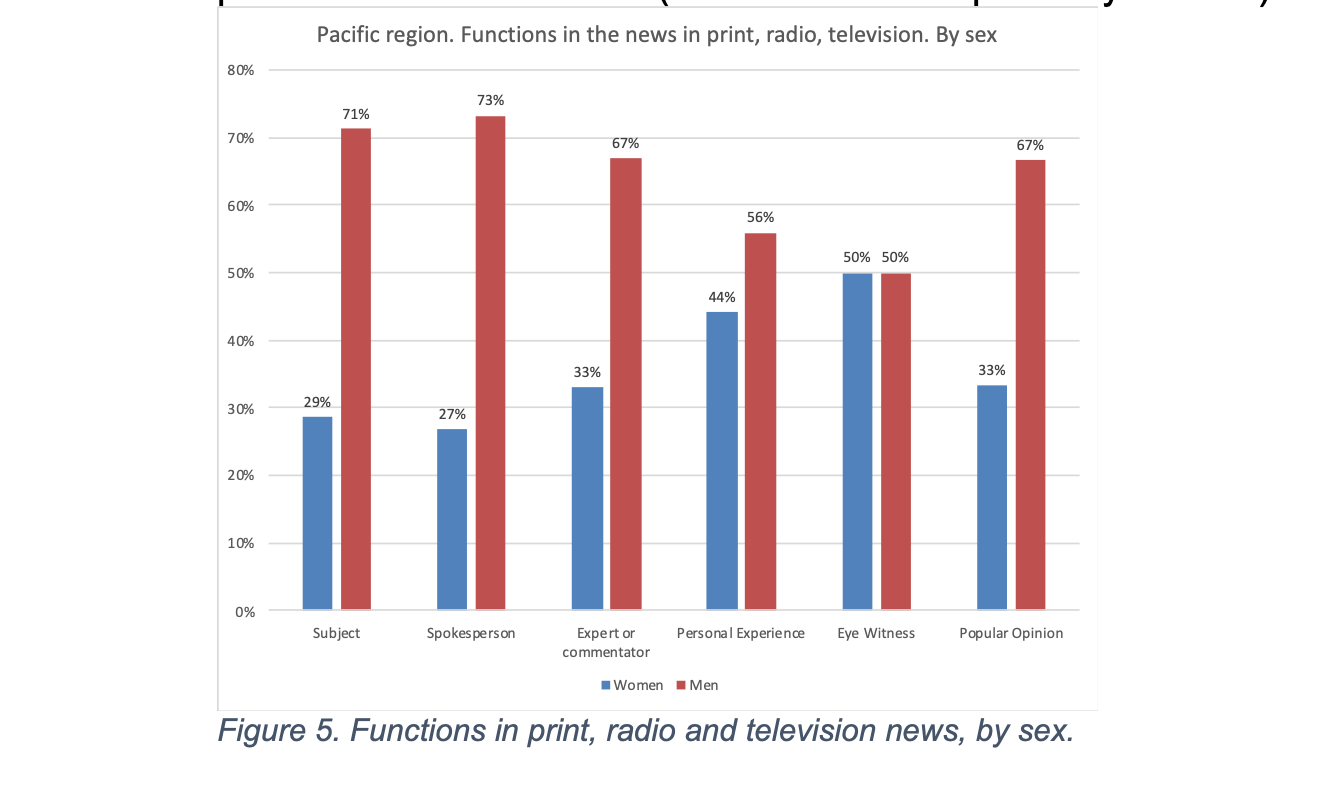 10 Aug 2021

Pacific media see strides in representation of women in the news

News media in the Pacific Region saw significant improvements in their representation of women since 2015, with results from the 6th Global Media Monitoring Project (GMMP) showing a 19% increase in the number of women tapped as experts and a five per cent increase in the number of subjects and sources who are women.

Women comprised 33% of people interviewed as experts on a topic and 27% of spokespersons quoted in the region's traditional media, a dramatic increase from 2015, when women were only 14% of experts and 24% of spokespersons.

The percentage of women seen, heard, or read about in the traditional media of Australia, Fiji, New Zealand, and Papua New Guinea increased from 26% in 2015 to 31% in 2020, and in digital media, from 24% to 33%, according to the new GMMP results.

The Pacific's legacy media also performed better than the world average when it comes to stories that raise gender equality or inequality issues and or human rights legislation or policy (9% compared to a global average of 7%).  Stories by female reporters (8% of stories) are two points more likely than those by male reporters (6% of stories) to highlight these policies or legislation.

They also performed better than the world average when it comes to the percentage of women reporters in traditional media: up 48% in 2020 from 45% in 2015; and higher in digital news, at 51%. Women dominated Covid-19 news reporting; 6 out of 10 coronavirus story reporters were women. Of this number, women were most likely to report stories with politics & government as a secondary theme (35%), compared to an economic sub-theme in the case of men reporters (38%)

Despite these gains, however, there are still areas for improvement. Women in the region are still more likely to be described in the news by their family status than men are, at 24% (compared to only 9% of men).  Of all people portrayed as homemakers, almost four out of five are women.  In the world depicted in the region's news, women are three out of 10 of health, social and childcare workers, 28% of politicians and 18% of businesspersons/ business executives.

Women and men reporters alike are similar in terms of their likelihood of describing female subjects and sources by their family status.

Gendered ageism in the news also exists and is most evident in the Pacific's television news. "When women do appear, they are most likely to be younger, while men's visibility rises with age," according to the GMMP. Sixty per cent of women who appear on television news are between 19 and 49 years old, while 53% of men are 50 and older. The most populous age bracket for men is 50-64 years (39%) while for women, it is 34-49 years old (35%)."

Pacific GMMP findings also show that women have a strong presence in newspaper (37%) but are least visible in radio news (19%). Topics that women participated in the most consisted of celebrity news (57%), environmental issues and tourism (43%), and disasters or accident events (42%). However, visibility of women in labour issues was lacking as no women were documented in this category.

GMMP teams monitored 979 news stories during monitoring day on September 29, 2020. Co-ordinated by WACC, a global NGO that promotes communication rights for social justice, the GMMP is the largest and longest longitudinal study on gender in the world's news media. It has been held every five years since 1995 and is a collaborative effort of various women's rights organizations, grassroots groups, media associations, faith-based and interfaith organizations, university students and researchers worldwide.