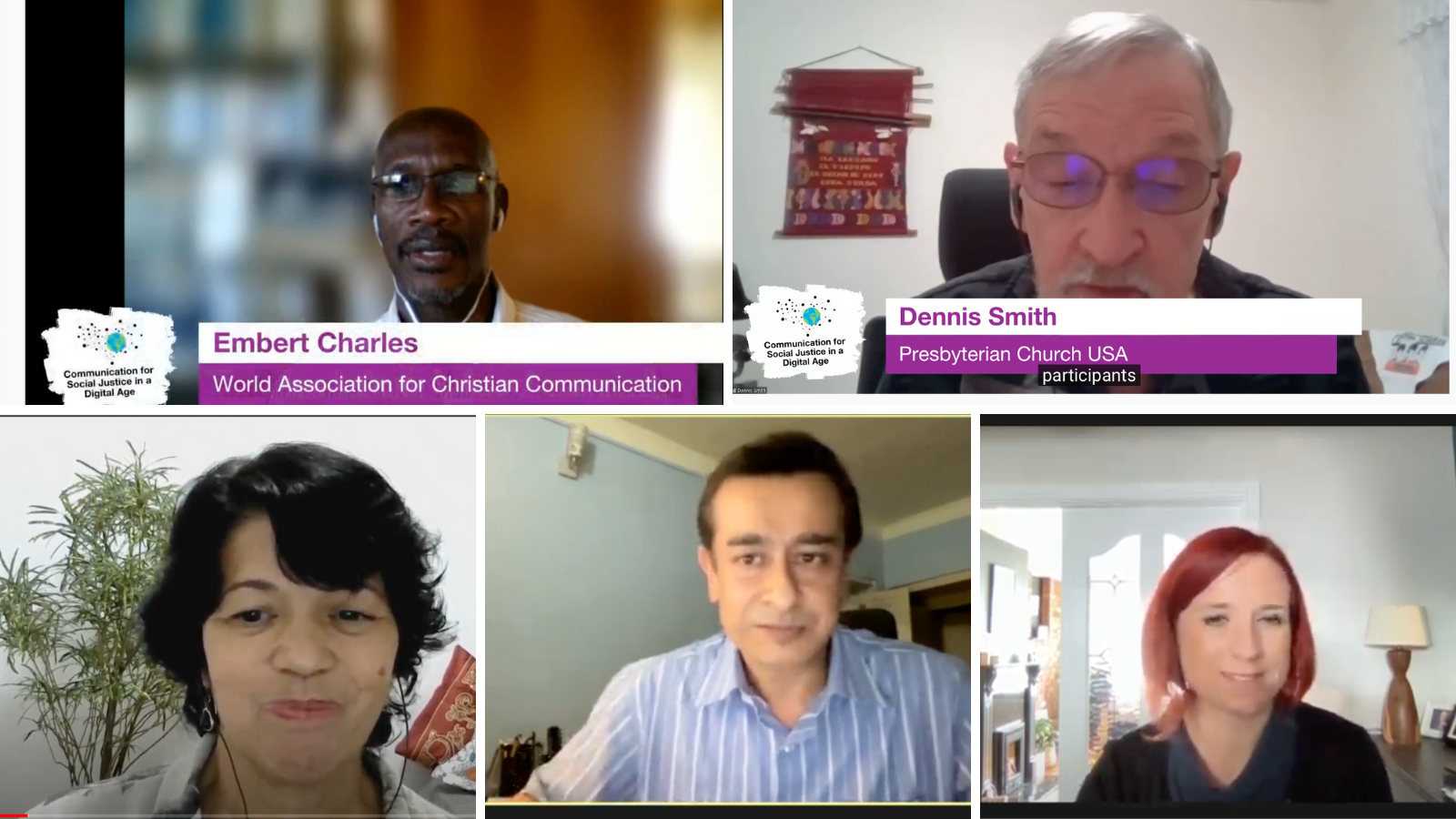 14 Sep 2021

'Reclaim democratic public communication spaces,' WACC members, partners urge

WACC members and partners are calling for a movement to "reclaim democratic public communication spaces" in both the analogue and digital spheres, which would strengthen marginalized voices, guarantee the right of citizens to own and control their data, information, and knowledge, and uphold social justice, communication rights and the common good.

The recommendation was made September 14 during a session at "Communication for Social Justice in a Digital Age," an international symposium co-organized by the World Council of Churches, WACC, Brot für die Welt, Evangelical Church in Germany (EKD),  Evangelische Mission Weltweit (EMW), and World Student Christian Federation.

The session, Creating Democratic Public Spaces, was moderated by WACC President Embert Charles and included a presentation of discussions by a WACC working group on the issue of public spaces, four case studies that illuminate the theory and practice of public spaces, and proposed courses of action.

In his presentation entitled Dreaming of the Common Good, Dennis Smith, former WACC president, noted how today's communication channels and platforms are "dominated by neoliberal consumerist ideology that defines the value of human beings as being a function of everyone's ability to consume ever-increasing amounts of goods and services."

This individualistic and consumerist emphasis "has contributed to the social imaginary where both the powerful and the powerless are consumed with the power of capital," said Smith.

"Neoliberal consumerist ideas are so deeply embedded in many communities today that many people – and the political leaders who "represent" them – cannot conceive that other value systems are possible," he said. It has also increased a "sense of tribalism, manifested in suspicion and fear of the other," and contributed to the breakdown of common public good, and "the breakdown of many communities' ability to imagine the common good."

The issue is not that that these new digital platforms such as social media are inherently destructive, said Smith. "The problem is not the social media per se, but that the driving force behind them is the maximization of profits and, thus, the monetization of all human attempts to create meaning in common," he said.  "Instead of people being able to organically shape public spaces, including through trial and error, they are driven and deliberately manipulated by this consumerist ethic."

The stakes are high, particularly for marginalized sectors in society, warned Smith. "As the ownership and control of these media has been consolidated in the hands of a tiny number of global corporations, their owners have grown more powerful than nation states," he said. "To be excluded from such spaces means not only to lose access to the cultural commons where communities build their identities but also implies the risk of physical annihilation. To be silenced, to be made invisible, can be a death sentence."

He noted how political and economic elites have used social media "as tools of disinformation for the manipulation of public opinion to exacerbate existing social divisions and prejudice and to provoke violent confrontations that consolidate their hold on power."

The Covid-19 pandemic and the climate crisis have only "further polarized our societies between extreme individualism on one hand, and on the other, a greater awareness of the need for community was well as the importance of public services and policies in defence," said Smith.

Still, the situation is not hopeless, he stressed. "While those in power have always sought to exert hegemony over the systems humankind has used to create meaning in common for their own benefit, no attempt to control public space has ever been completely successful.

Notwithstanding the pitfalls of today's digital, online, and legacy media platforms, one must remember that these are still public spaces "where human communities express the creative impulse and question what it means to belong," stressed Smith. "When elites attempt to control public space, it is not uncommon for them to stigmatize or even criminalize difference. In such contexts, to be excluded from public space is to be silenced, made invisible. Nevertheless, humankind has always found ways to resist tyranny and dream other realities into existence."

Suman Basnet, regional director of AMARC, a WACC partner in the Asia Pacific region, discussed the "shrinking space on community radio," and underscored the need for policies that guarantee space for marginalized communities, a share in public funds, independent regulatory mechanisms, among others.

Basnet noted that there are many local radios in the region "mainly because civil societies have successfully negotiated with governments the right to broadcast." Still, they exist in "hugely unequal and unfair partnership over community broadcasting rights" because of narrow definitions of community broadcasting.

People rarely challenge the government's definition of community broadcasting as limited to the FM band, he noted. "The reality is that community radios can exist wherever a community is. Communities are indeed found in FM, but they are also found on AM or MW, satellite radio, podcasting, narrow casting, cable casting, and so on. It has been famously said that community radio is 90% community and 10% radio."

Basnet urged donor agencies to invest in community radio as a way of strengthening policy advocacy. This could include developing the capacity of community broadcasters and media literacy.

"Governments should be encouraged to design cultural policies that promote the production of cultural, educational and scientific content and the development of local cultural institutions suited to the linguistic and cultural context of community members," he added.

Rania Rashad, WACC board member (Middle East), shared a video on the need for a broad ecumenical response to the challenges posed by social media, prepared by the Coptic Evangelical Organization for Social Services, where she works as manager of the funding and investment unit.  "If we were to remember all the wars that took place in the Arab world, or in the world as a whole, we find that these are preceded by hate speech, "Dr. Azza Arabi, researcher at the faculty of literature, Minya University, says in the video.

Elaine King, community media coordinator for Near TV in Dublin, Ireland, shared her organization's work in media literacy, resources mobilization and training for communities in Northern Ireland that are normally excluded in the country's mass media.

Magali do Nascimento Cunha, of  Internet Ciudadana, shared details of a research she coordinated on "Fundamentalism, the crisis of democracy and the threat to human rights in South America; Trends and Challenges for Action."

She noted that Latin America and other parts of the world are experiencing "a new stage of fundamentalism," that goes beyond the religious dimension to include political and economic characteristics.