23 Feb 2018

Technology and women's empowerment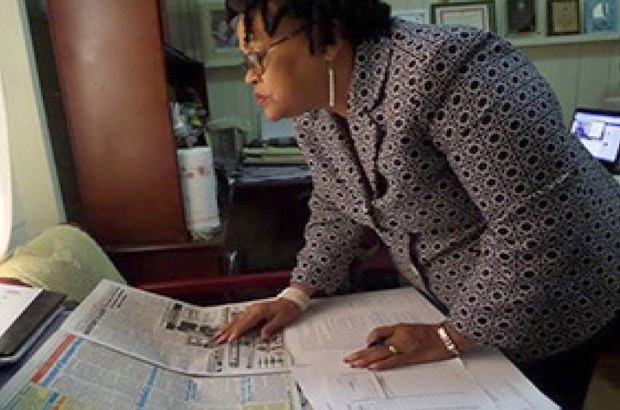 Photos: Contributed
WACC's Global Media Monitoring Project (GMMP) is a research and advocacy project implemented collaboratively with women's rights organizations, grassroots groups, media associations, faith-based organizations, university students and researchers around the world. Volunteers take part in a one-day survey of news media. The photos here and below show participants in GMMP 2015: above Guyana, below: Albani, Mongolia, and Vietnam. The importance of media monitoring as a tool for change was officially recognized by the United Nations for the first time in Section J of the 1995 Beijing Platform for Action. The results of monitoring provide a picture of media content that allows discussion about representation in media based on "hard" evidence.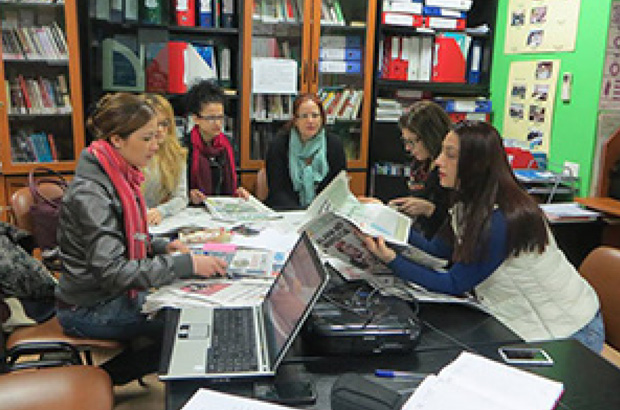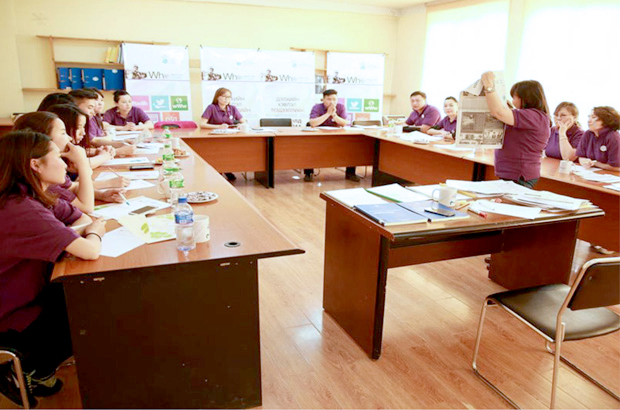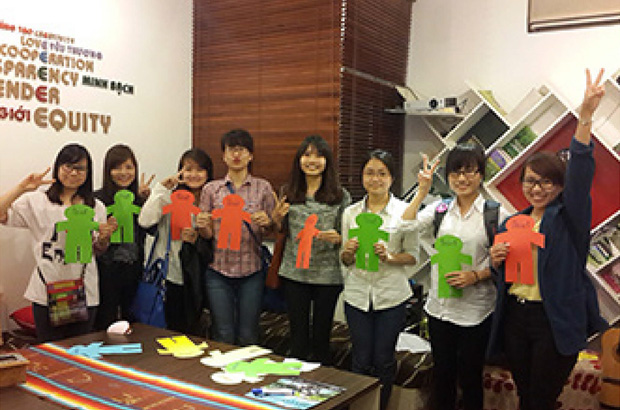 ---
If the monitoring of media content over the last 40 years has shown anything, it is that women's ability to be seen and heard have not progressed at the same rate as their real-life roles.
Since the 1970s, women have benefited from women's liberation movements and taken ever greater leads in business, education, politics, and public life. Yet, they are still unable to speak in their own self-interest in the news media of most nations – either as expert sources, or to articulate pro-feminist opinions (Who Makes the News, 2015). Women are similarly under-represented in Hollywood films, which are viewed all over the world (Hunt et al., 2017). Regional studies show that women's voices and images are similarly marginalized in traditional as well as new digital media formats of both developed and developing nations (Byerly, forthcoming).
This paper responds to Goal Number 5 of the UN Sustainable Development Goals for 2015-2030. That goal is to Achieve Gender Equality and Empower all Women and Girls, and proposed target "5.b" specifically concerns the use of information communication technologies (ICTs) to promote women's empowerment. The convergence of traditional print, broadcast and cable with digital (computer) formats require that we understand ICTs to include the wide array of media used today for personal, interpersonal, and mass communication in today's world.
Much of the focus in both research and human rights groups has been on women's access to ICTs, with particular concern with the digital divide between men and women. A moderate share of the concern has also been with gaps in infrastructure (i.e., availability) and with user issues, such as the dominance of English in web-based information (Annan, 2005). Therefore, this paper seeks to broaden attention on women's relationship to the structures of the industries that still thwart them from exercising their right to communicate. Structural relations take formation in the macro-level of the media landscape and include finance policy, and governance.
Women's right to communicate
The right to communicate was recognized as a human right by Article 19 of the Universal Declaration of Human Rights in 1948. Adopted by the United Nations' General Assembly, Article 19 states:
"Everyone has the right to freedom of opinion and expression; this right includes freedom to hold opinions without interference and to seek, receive and impart information and ideas through any media and regardless of frontiers." (Article 19)
Yet current research shows women's difficulty in exercising that right within the industries. In media professions, they remain prevented from entering roles with any level of decision-making control both within news and entertainment sectors (Ross & Padovani, 2017; Byerly, 2011; Hunt et al., 2017, Lauzen, 2017).
As the table on the following page illustrates, only a few women are allowed to accede to the prestigious role of policy-making exercised by boards of directors in large digital media conglomerates (Byerly, forthcoming). These companies provide both the infrastructure and content of the vast majority of all communication the world over. They also control an enormous amount of wealth, wealth that their mostly male governors use to elect pro-corporate legislators and to shape media policy in their favour.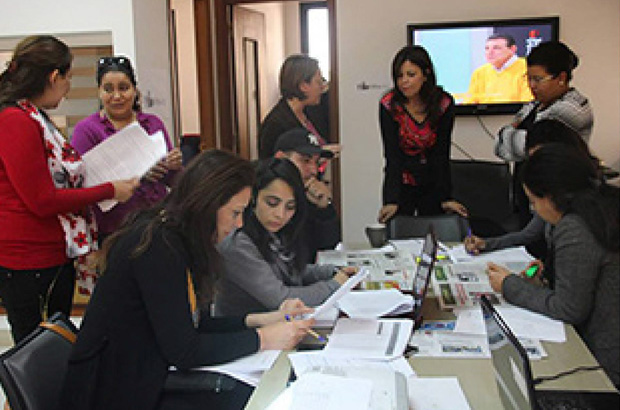 For GMMP 2015, participation increased from 71 countries in 1995 to 114 countries in 2015, evidence of a growing interest, willingness to engage on issues of gender in the media, and commitment to propel change towards media that affirms women's rights and gender equality objectives. GMMP 2015 revealed persistent and emerging gaps in gender portrayal and representation in not only traditional (print and broadcast) media, but in new electronic media forms. Pictures here: volunteers from Tunisia
---
Situating women in media conglomeration
Media conglomeration characterizes the great majority of the world's communication systems today where women are marginalized at every level, as has been shown. The conclusion to draw is that women are presently peripheral to both the control of and the benefits from the world's communication technology companies and what they provide. The salient question to pose with this realization is how will women become full participants in their societies if they cannot tell their own stories, see the wide array of images and roles they occupy, and obtain the information they need to advance?Women have paid less attention to the national, regional and international policy governing communication systems than they have more practical realities such as information available (or not in those systems) and access to jobs. There is little research to date on whether and to what extent gender equality figures in national-level communication policy. Male scholars have avoided the subject for the most part, and both feminist scholars and activists have given it only minor attention (Gallagher, 2014).
And yet, as Gallagher (2011) insists, any discussion of freedom of expression must ask, "Whose freedom, defined by whom?" (p. 457). It should not be defined, as it typically has, as men's right to squander the profits of communication companies to secure their own economic and political power, or continue to omit and stereotype women in the content of their news and programming. Despite the passage of international documents like the Beijing Platform for Action in 1995, with its Section J calling for gender equality in the media, or the Convention for the Elimination of Discrimination Against Women (CEDAW), there has been little success in securing a place for gender and media concerns on the international agenda (Gallagher, 2011, p. 459).
The next frontier for feminist research and activism, therefore, is at national and international policy levels, something that gatherings of women, such as the annual U.N. Commission on the Status of Women meetings in New York City affords the opportunity to develop.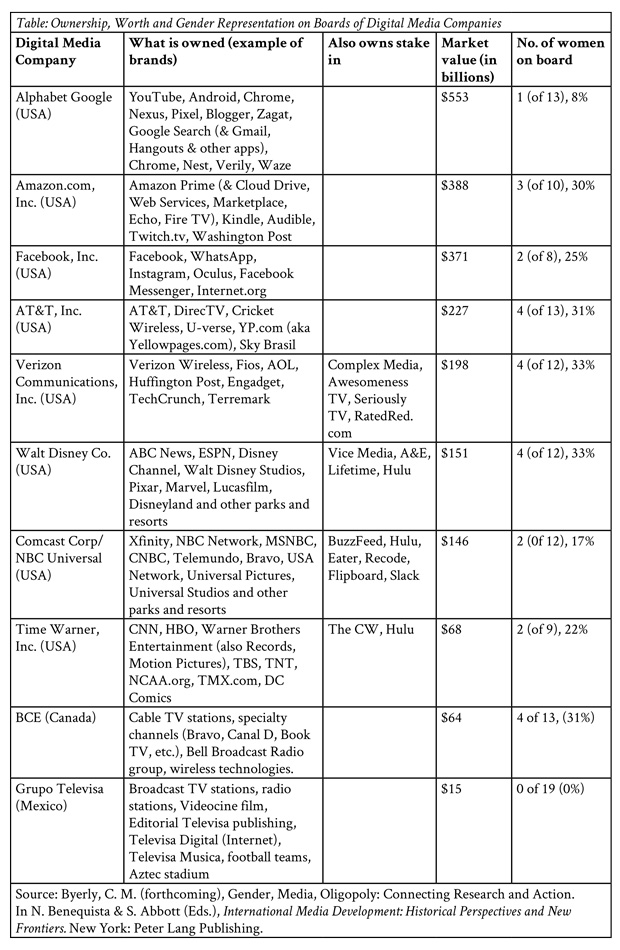 References
Annan, K. (2005, September). Gender equality and empowerment of women through ICT. Women 2000 and beyond. http://www.un.org/womenwatch/daw/public/w2000-09.05-ict-e.pdf
Article 19. Universal Declaration of Human Rights. International Council on Human Rights Policy (website). http://www.ichrp.org/en/article_19_udhr
Byerly, C. M. (forthcoming), Gender, Media, Oligopoly: Connecting Research and Action. In N. Benequista & S. Abbott (Eds.), International Media Development: Historical Perspectives and New Frontiers. New York: Peter Lang Publishing.
Byerly, C. M. Global Report on the Status of Women in News Media. Washington, DC: International Women's Media Foundation, 2011.
Byerly, C. M. and Valentin, A. Women's Access to Media: Legal Dimensions of Ownership and Employment in the United States. In R. A. Lind (Ed.), Race and Gender in Electronic Media. New York and London: Routledge Taylor & Francis Group.
Gallagher, M. (2014). Media and the representation of render. In C. Carter, L. Steiner and L. McLaughlin (Eds.), The Routledge companion to media and gender (pp. 21-31). London and New York: Routledge Taylor and Francis.
Gallagher, M. (2011). Media and communication policy: Struggling for space. In R. Mansell & M. Raboy (Eds.), The handbook of global media and communication policy. Malden, MA: Wiley Blackwell.
Hunt, D., A.; Tran, M.; Sargent, A.; and Díaz, V. 2017 Hollywood diversity report: Setting the record straight. Los Angeles, CA: Ralph J. Bunche Center for African American Studies at UCLA.
Lauzen, M. The celluloid ceiling: Behind-the-scenes employment of women on the top 100, 250, and 500 films of 2016. http://womenintvfilm.sdsu.edu/
Carolyn M. Byerly, Ph.D. is Professor and Chair, Department of Communication, Culture & Media Studies, Howard University, Washington, DC and Interim Chair, Research and Policy Committee, Global Alliance on Media and Gender (GAMAG).