09 Aug 2018

The new normal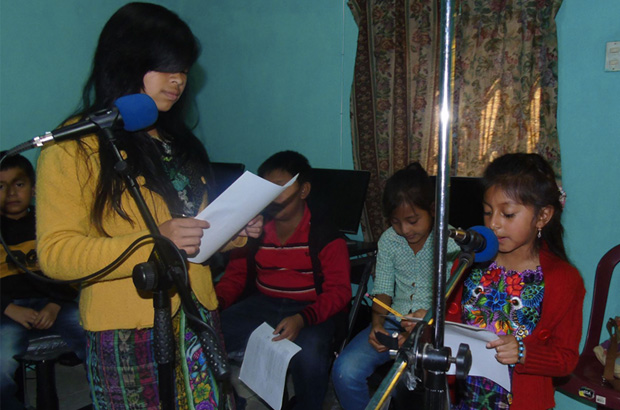 Children of Mayan cultural and oral radition who speak kaqchikel learning community radio techniques at Radio Ixchel in Sumpango Sacatepéquez, Guatemala, in a project jointly supported by WACC and Cultural Survival.​​​ Photo: Contributed
---
We were having Sunday lunch at one of those new, up-scale burger places that are popping up all over Latin America. Menus generally include veggie burgers, beef, pork, chicken – and, of course, craft beers. We were sitting at an inside counter. Our son noted a docile Labrador sitting with its family at an outside table.
Unbeknownst to its family, the Labrador had managed to get itself tangled up in its leash. A back leg was completely immobilized, the corresponding front leg also trapped, lifted in permanent supplication. In patient discomfort, the dog awaited outside intervention.
Across the distance, the Labrador made eye contact with our son. "Look at that poor dog!" our son said, "See his face? He seems to be saying, 'This is life now! This is the new normal!'"
Our son got up, walked outside, and informed the family of the dog's plight. Embarrassed, they quickly untangled their pet.
"This is life now: the new normal". An apt metaphor for so much that is going on in today's world. Fake news. Corruption. Lying and deception at the highest levels of government and industry. Confronted with such systemic dysfunction, we often feel paralyzed, powerless, without recourse.
The weaponization of information is hardly new. We can trace the dissemination of slander and falsehood for commercial gain and political advantage as far back as the 19th Century penny press in the USA. Yet today deception seems more widespread, more institutionalized, than ever. Sometimes the deception is amateurish, sometimes slick, polished with all the tricks technology can offer. As one unpacks the lies, they often reveal a coldly mercenary intelligence.
Particularly galling is that deception so seldom brings recrimination upon the deceivers. Power has always fostered impunity, and the craftiness of the deceiver has always been celebrated in folklore. Deception today, globalized through social media platforms like Facebook and Twitter, is different more in degree than in kind from that practiced throughout human history.
Because of the concentration of media conglomerates in the global North, the whole world is subject to the systemic lies of Fox News, RT News and Mr. Trump's vivid tweet storms. But major media conglomerates in the global South, in close coordination with political, economic, and religious elites, also play this game. Here are two recent examples from Latin America:
A careful review of current election campaigns in Colombia, Venezuela and Brazil reveals massive deception carefully calibrated to generate suspicion, distrust, and even hatred. The details presented – ideology, race, security, corruption, the economy – vary according to the hot button issues of each context. In Colombia, for example, a favorite tactic has been to portray Venezuelan immigrants and/or demobilized FARC guerrillas as being responsible for a perceived increase in citizen insecurity.
Throughout the region, an LGBTQ "conspiracy" promoting a so-called "ideology of gender", supposedly sponsored by gay activists in the US, is presented as a threat to traditional family values. Surprisingly, when sexual minorities are protected by government attempts to combat bullying or to assure access by minorities to education, these efforts are dismissed an "insidious plot" against the traditional family. Evangelicals – a growing and important electoral constituency in Latin America – are told to be on guard against this conspiracy, as are traditional Roman Catholics. Ultra-conservative forces in the US work closely with TV evangelists and conservative political parties in the region to mount these campaigns.
Over the last five decades, a core element of WACC's identity has been to promote and defend communication rights. From our early advocacy of the MacBride Report to ongoing campaigns to empower the silenced and invisibilized, we have understood that once a community is denied a voice, their very existence can be in jeopardy.
During this time, WACC has moved from being a collective of denominational publishing houses and media producers based mostly in the global North, to being a network of institutions, communication professionals and grassroots initiatives based mostly in the global South.
In 2012, WACC's officers met in Busan, South Korea with other ecumenical agencies to prepare a statement on communication to be presented to the Busan Assembly of the World Council of Churches. In that statement, we noted:
"The world is a very different place from when the World Council of Churches addressed the issue of communication at the Uppsala (1968) and Vancouver (1983) Assemblies. Today, people everywhere, even children, share their stories through media platforms… that are more powerful than those available to churches, governments and media conglomerates 30 years ago."
These emerging global media platforms, in addition to making it much easier to keep up with friends and family, have proved propitious for the rapid spread of rumours and lies. Some such messages are carefully crafted by professionals to exacerbate existing stereotypes and prejudices; sometimes they are crude and shabbily assembled. But no matter what their level of technical proficiency, such messages can impact elections, exacerbate hatred against minority and excluded groups, and foment social unrest.
We know this. We know that this is life now. But are we not also certain that we cannot accept this state of affairs as the new normal? Each of us can provide chilling and dramatic illustrations of the use of social media for deception and manipulation from our particular contexts.
Thus, as WACC enters a new decade, we must discern together what role WACC can play in addressing this complex and volatile issue. Here are some suggestions:
1. We must support efforts in the entertainment, information and social media industries to invest all necessary resources to develop and rigorously apply codes of conduct and effective mechanisms for self-regulation. Our previous contact with commercial media producers have taught us that they too have kids, are concerned about violence, discrimination and racism, and have not necessarily sold their souls to Mammon! We must identify and work with allies toward constructive change for the common good and support them as they seek to bring the rest of their industries on board.
2. Self-regulation is not sufficient. Such media platforms have become, in effect, an essential part of our communication infrastructure. Indeed, like potable water, public sanitation and the electricity grid, they have become, essentially, public utilities. As such, they must be accountable to the public and be regulated by legislation and appropriate government agencies. The recent implementation of the General Data Protection Regulation (GDPR) by the European Union is one useful example of this. "Fake news", however, is a more nuanced issue that needs to deal appropriately with freedom of expression issues. At least, social media platforms should not be profiting from the massive dissemination of unsubstantiated rumours and lies.
3. In the 1990s, WACC-Latin America was deeply involved in promoting Lectura Crítica de los Medios (Critical Reading of the Media, or Media Literacy). As media monopolies accumulated ever more political and economic power, we understood that if people were unable to differentiate between truth and lies, it would be the end of democracy. Through media literacy, we also understood that in a consumer society where identity is cobbled together from media images and one's capacity to consume, we must develop our muscle for critical consumption of the media.
We also learned that we had to fight for access to the electromagnetic spectrum and for the inclusion of the silenced and invisibilized in media narratives. We learned that even those with limited formal education had the capacity to "re-signify" media narratives and use them for empowerment. Through edu-comunicación and similar programs we learned that media literacy needed to be incorporated in both public and private school curricula.
Through such vital, ongoing WACC projects as the Global Media Monitoring Project (GMMP), we have learned the value of alliances between communication professionals, the academy and grassroots media organizations to demand changes in how women and men are portrayed in the news media.
Similar methodologies have been applied to other issues such as the representation of poverty and violence in the news media. Now that the media landscape has evolved, WACC regions should promote development of media literacy strategies appropriate to their emerging contexts, empowering communities and individuals to be the subjects rather than the objects of today's media.
4. Early in our experience as an Association, WACC understood the need to challenge such abuses as proselytism or fear-based manipulation in religious media. In part, that is why we developed the Christian Principles of Communication in the early 80s as an ethical roadmap to orient messages broadcast in religious media. When he drafted the Christian Principles, Mike Traber formulated for us an expression of our core identity. We came to understand that communication that is coherent with the gospel creates community, is participatory, liberates, supports and develops cultures, and is prophetic.
In Latin America, and in other regions, communicators of other faiths and none came to embrace these principles as a worthy statement of ethical principles for communication professionals. In 2011, we revisited this expression of our common identity and drafted Communication For All: Sharing WACC's Principles. In this revised document, we sought to respond to the emerging ethical challenges of a changing media landscape, lift up our connectedness to all of Creation and provide a platform for dialogue on communication issues with interfaith partners.
In Communication for All we affirmed that "there is a sacredness to the creation of meaning in common, in which communication reflects the spiritual values at the heart of human identity".
The new normal? Our hope is that – through its members and regions – WACC can participate in building a new normal that reflects our dreams and aspirations for the common good.
Dennis A. Smith, a former President of WACC, has served for the last 41 years as a mission co-worker of the Presbyterian Church (U.S.A.) in Latin America. Since 2011, he has been based in Buenos Aires, Argentina as Regional Liaison for South America.