21 May 2018

Too much razzmatazz – too few values?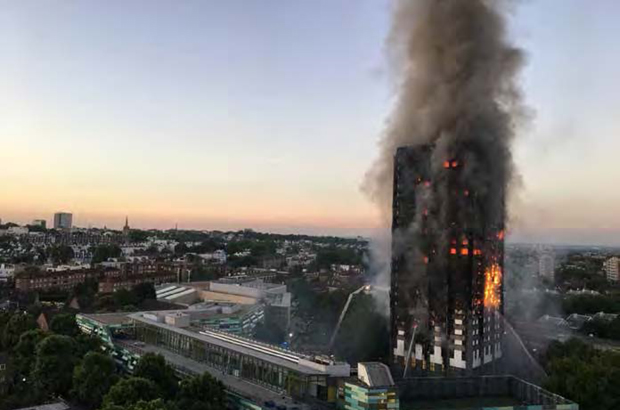 Grenfell Tower burns. Photo: @Lisa_Oxford (CreativeCommons)
---
In the clamour and razzmatazz of our high-tech media, form tends to dominate content and everything has to turn in a quick profit. So can the spirit and values of public service journalism survive?
The approach of Britain's TV programme Channel 4 News in covering the horrendous Grenfell Tower fire (photo below) in London in June 2017 gives cause for optimism. All the UK media reported this avoidable tragedy that cost the lives of 80 people in the high-rise public housing block. But weeks after the fire Channel 4 News reporters were still on the story, standing by the blackened skeleton of Grenfell Tower with grieving residents, neighbourhood groups, police and firefighters, probing officials accused of failing those who had died.
The survivors, mostly from immigrant families on low incomes, were used to being ignored. Gradually they opened up in interviews, gaining the confidence to demand decent housing, a full inquiry, answers from politicians… The journalists then discovered that short-cuts in construction had left many more blocks like Grenfell at high risk of fire all over the country – a national scandal. Central government, while acknowledging the problem, was pushing it back on cash-strapped local councils, refusing to commit funds towards repairs. A public inquiry is now underway and the story continues.
This kind journalism encourages people to find their voices, promotes inclusion and links those fighting for a kinder world. At the very least, it offers an antidote to the untruths, mind-numbing trivia, sensationalism, sexism and racial hatred that divide communities. At best, it can help to change society.
New media alliances
With dazzling digital advances, the task of public service journalists in reaching their audiences should be easier. Especially exciting is the crossover between print and on-line journalism and the sheer wealth of information accessible online.
Fruitful new alliances between professional writers and citizen journalists are emerging too. In Syria, at the time of writing, a number of women among the estimated 400,000 people under terrifying bombardment in eastern Ghouta are reportedly linking up with foreign correspondents by making videos and regularly giving eyewitness accounts.
For the mainstream media around the world, investigative reporting – foreign stories in particular – demands hefty resources, as does in-depth analysis and searching out independent voices. Channel 4 News, produced by the big ITN network, has the necessary budget having consistently won awards and boosted ratings. The Guardian newspaper on the other hand, internationally respected and committed to a public service approach, is struggling to attract more advertising revenue. Soon it may exist as an online publication only.
In this ultra-commercial environment of ratings wars, targets and the battle for advertising, media mergers are squeezing out diversity and the business ethos prevails. There is little commitment to anything that doesn't draw hoards of readers/viewers/listeners and won't make money in the short term. Frazzled journalists and broadcasters cling to their jobs in a precarious labour market, many on short-term contracts, their trade unions (if they have them) on the back foot.
In a blow to local democracy in Britain, multi-media giants have been buying out and decimating a once vibrant, independent-minded network of local newspapers and radios, deemed unprofitable. Their voices are badly missed as the government slashes funding for local services in the name of austerity and demoralised communities wonder what can be done about it.
The BBC, once a beacon of public service broadcasting, stands bloodied and bowed. Its public licence fee (modest annual levy on every household with a TV) used to finance a vast choice of quality programmes for all viewers irrespective of whether the programmes commanded a mass audience or not.
Now the BBC is under continual attack by the government and media companies, forced to compete "on a level playing field" with its commercial rivals. Quality output doesn't come cheap so this means cutting staff levels to the bone and farming out much programme-making to outside production companies. In other words, privatisation by the back door.
Business interests of media magnates and the agendas of governments often coincide. For example nearly all the main media outlets in Britain have tried to discredit the country's leader of the opposition Labour Party, Jeremy Corbyn. Fearful of Corbyn's left wing credentials, his stance against austerity and war and his growing popularity they ran a campaign of fake news and personal vilification against him over months.
A recent report by media and communications researchers at the London School of Economics (LSE) found that the British media had "systematically attacked Jeremy Corbyn ever since he came to prominence in the summer of 2015."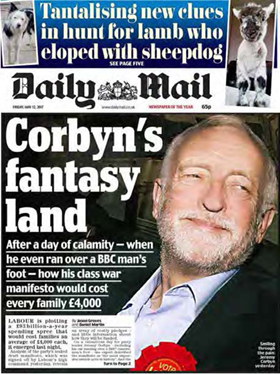 Fortunately for Corbyn, his supporters proved adept at using social media to defend him and explain his policies. This, combined with Corbyn's own determination to travel the country meeting voters in person, actually succeeded in substantially increasing the Labour vote in the 2017 general election. Even though his party did not win, he drew hundreds of young people to Labour, leaving a lot of red faces in some newsrooms. Corbyn outflanked fake news .
Powerful forces with pots of money are out to dominate social media spaces and suffocate genuine debate. Breitbart News Network, a far-right American news and commentary website formerly edited by one-time Trump aide Steve Bannon, is backed by billionaires and inundated with lucrative advertising. The Daily Mail's highly profitable MailOnline website, claiming to be the second most popular after The New York Times, is another example.
Both Breitbart and MailOnline wage a relentless ideological offensive, peddling hatred of the impoverished and vulnerable and fuelling division in society. They would have us believe that war and austerity are inevitable, that there is no obscene gap between rich and poor in many countries, that migrants are vermin, the climate crisis a hoax and that all Muslims are terrorists.
The infiltration of social networks with fake news has now reached a whole new level. Some governments and shady organisations are pouring money into automated systems of bots that pretend to be real people and drench social media with their point of view.
So can journalists stand up to all this? "Alternative" progressive media outlets, run outside the mainstream, are perhaps most developed in the United States. The TV news programme Democracy Now! airs live each weekday. It is broadcast on the internet and by over 1,400 radio and television stations worldwide. While supporters and critics both deem it "radical", its executive producer rejects that label, calling the programme a global newscast that has "people speaking for themselves".
The website AlterNet says it aims to "inspire citizen action and advocacy on the environment, human rights and civil liberties, social justice, media, and health care issues." It claims 5.9 million visitors monthly, but like other alternative media, it has no advertising and relies on supporters' donations.
All power to them and many thousands of others who, with or without money, are defending public service values and getting their messages across.
Kathy Lowe, a freelance journalist based in the UK, was formerly editor of WACC Action and before that, Associate Editor of the World Council of Churches magazine One World. Her book Opening Eyes and Ears (WCC/WACC/LWF, 1983) examined ventures breaking new ground in public service communication.