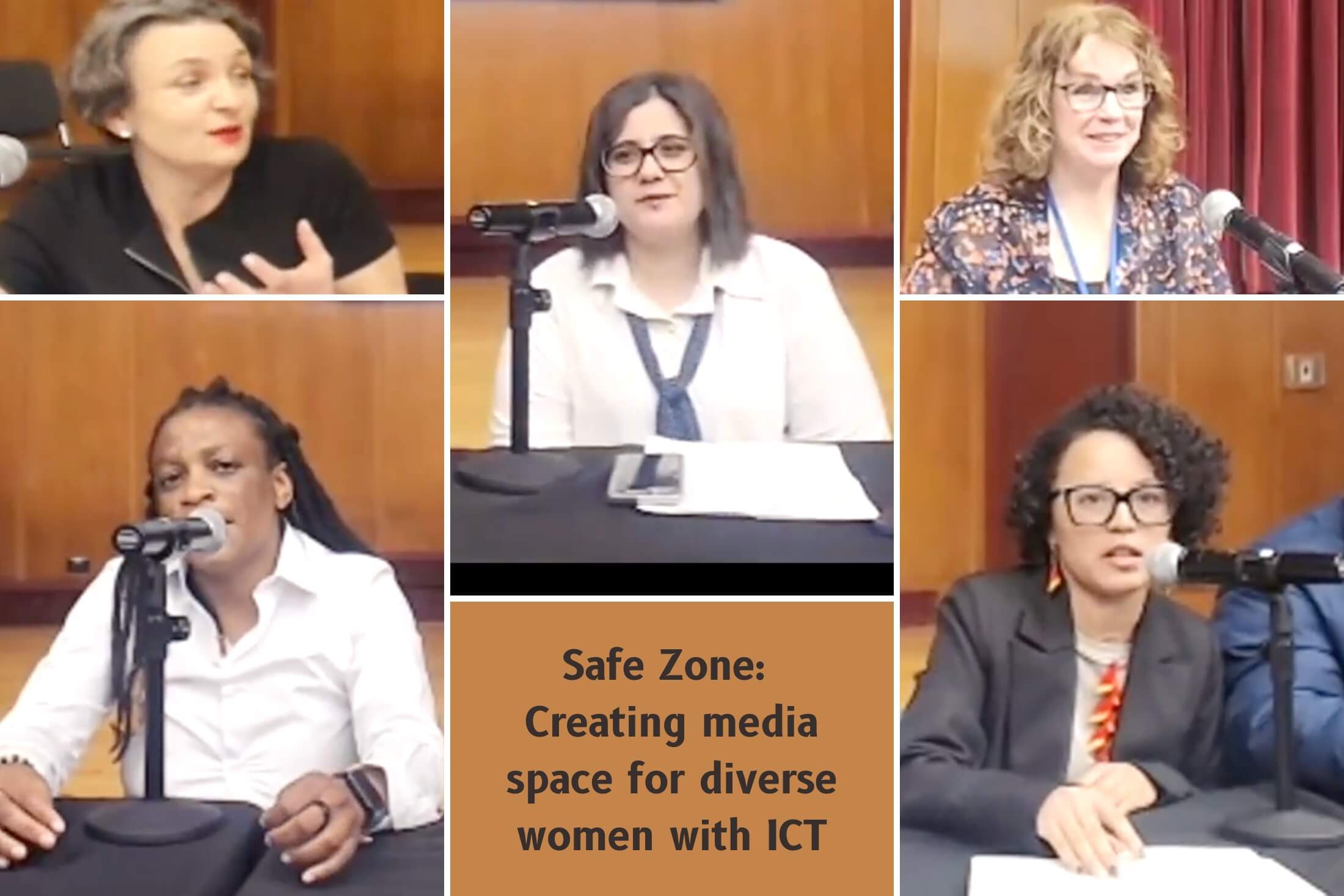 17 Mar 2023

Using new technologies to create safe and diverse media spaces

Women journalists and activists can use the internet to their advantage and find support to help them stay safer online, concluded speakers at "Safe Zone: Creating media space for diverse women with ICT," an event organized by WACC and Global Forum for Media Development partners on 10 March at the NGO CSW67 Forum running parallel to the 67th UN Commission on the Status of Women (CSW).
Silenced voices
Zimbabwean photojournalist Dianah Chiyangwa, winner of a WACC–Code for Africa fellowship, said research shows that three of four women journalists have experienced gender-based violence online, and many stop reporting as a result. She pointed to the example of South Africa, where online attacks against women journalists in the form of body shaming, death threats and other abuse are ongoing.
Chiyangwa stressed that solutions are needed to stop this silencing of female journalists.  "The work that they do, they are not only representing themselves, but they are telling human stories on the ground."
Moderator Emma Gibson, global coordinator of the Alliance for Universal Digital Rights, agreed. "If we lose women's perspectives on the world, then we're losing out on understanding those realities."
Chiyangwa called for more efforts to equip women, especially young media professionals, with skills and tools to protect themselves online.
Safe, inclusive spaces
"[We must] empower women and provide support they need to ensure that they can express their opinions and actively participate in digital public spaces," affirmed Marina Alsahawneh, gender, equality, diversity, and inclusion officer with Jordan Open Source Association (JOSA). She reported on JOSA's work to develop AI tools that detect abusive content and to teach women journalists and activists the fundamentals of cyber safety.
Alsahawneh pointed to the need to bridge the gap between ICT experts — who are designing technologies with little insight into the social biases and problems of communities — and activists and sociologists — who lack a grasp of how new technologies work, meaning they cannot effectively help to correct biases that might arise. JOSA facilitates gender understanding and collaboration between the two groups "so that we can achieve the digital spaces that we are dreaming of."
"If we are to create a safer and more inclusive digital space, digital technology, and AI, we should get women more involved in the tech industry," Alsahawneh urged, noting that according to GitHub less than 3% of open-source contributors are women. Moderator Emma Gibson added that 80% of Wikipedia content is written by men, content that is being used to train the wildly popular AI-driven ChatGPT.
Diverse perspectives
Colombian research journalist Edilma Prada Céspedes called for diversity of voices and intercultural and collaborative models of journalism to create safer media spaces. Her network Agenda Propia is made up of both Indigenous and non-Indigenous journalists, two-thirds women, in 17 countries in Latin America.
The innovative media network recognizes the knowledge of Indigenous communicators and the unique ways each community has of articulating their lived experiences such as violence against women, cultural and physical genocide, environmental destruction, activity of criminal groups, and racism.
"The official voice must not be the government's voice," Prada Céspedes said, noting that mainstream media in Colombia has reported a "fragmented truth," giving little space to victims' perspectives. "We must elevate the voices of the people, whether farmers, Blacks, Indigenous, and we must be strong to form this way of journalism. It's a way to generate trust with the people and the public."
Prada Céspedes also pointed to the importance of using a range of digital narrative formats to bring local issues into the global domain.
Old and new technologies
The convergence of radio and information and communications technology (ICT) can be used to strength communities in areas of conflict and promote safety and inclusivity of women, reported Emma Heywood, researcher and senior lecturer with the University of Sheffield.She elaborated on how the digitalization of radio and the use of the social platform WhatsApp as a feedback channel were giving displaced and remote host communities in the Sahel region in Mali, Niger, and Burkina Faso "a link with the outside world and the villages they left behind."
Heywood observed that digital radio promotes a culture of collective listening that replicates earlier oral traditions, allowing information to ripple through a community. She noted some dangers of ICT such as terrorists infiltrating WhatsApp groups and online chats used by women journalists or seizing phones to look for sensitive information.
Actionable steps
The panelists noted some actionable steps to contribute to safer media spaces. Learn about simple hacks such as VPNs, camera blockers, and URL scanners to protect yourself, Alsahawneh said. "Spread the word, share the information with every woman you know, every woman activist, every woman journalist."
Chiyangwa said that more safe zone platforms are needed, especially in the Global South. "Train women journalists how to avoid these online attacks. This will go a long way."
WACC co-organized "Safe Zone: Creating media space for diverse women with ICT" with Article 19, Fondation Hirondelle, International Media Support (IMS), SembraMedia, and the World Association of Newspapers and News Publishers (WAN-IFRA). All are fellow members of the Global Forum for Media Development (GFMD), an international network of 147 media development and journalism support organizations.