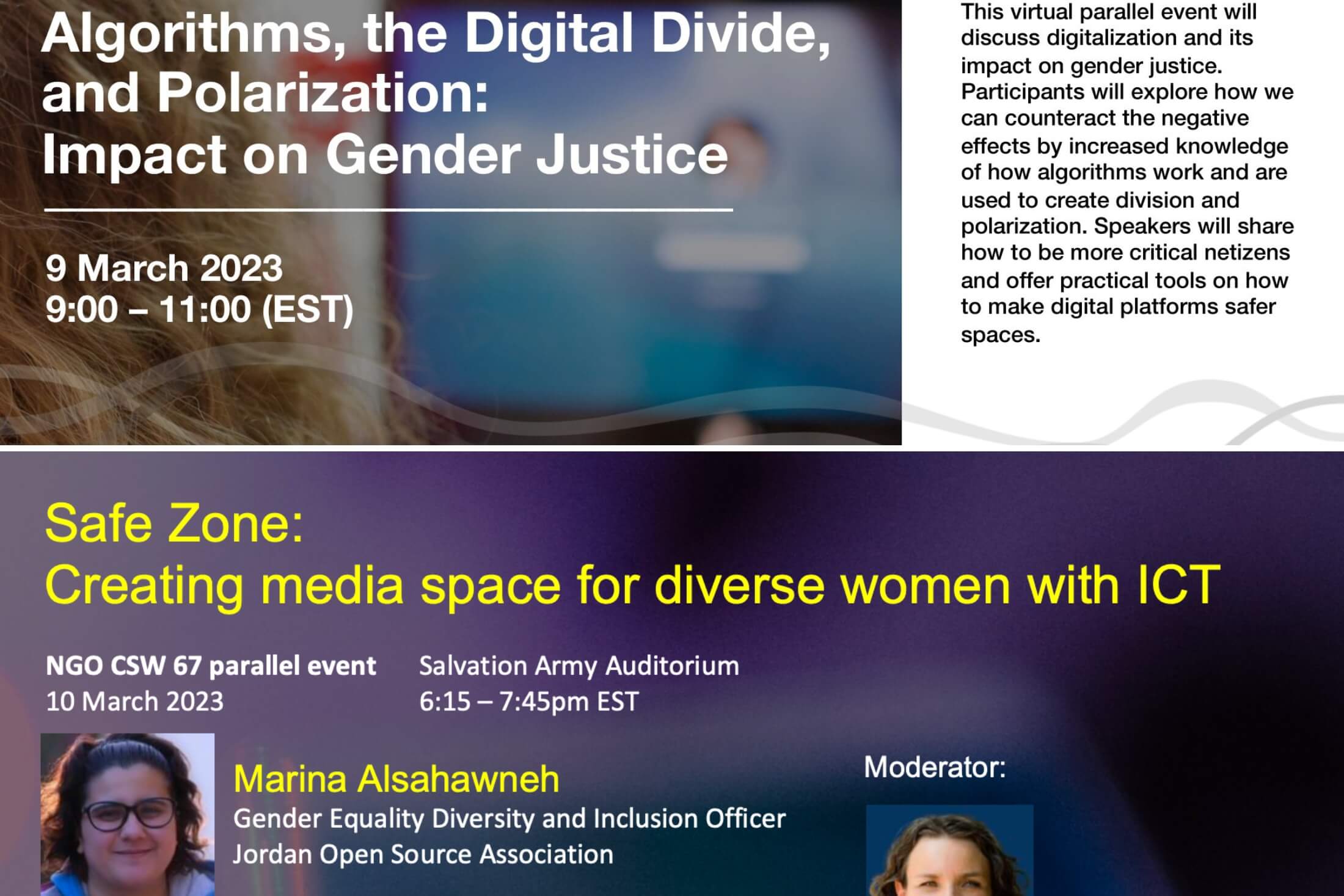 08 Mar 2023

WACC events at global women's forum to focus on women's digital communication rights

WACC is spotlighting gender-just online media and gender justice in our increasingly digitalized world at the NGO CSW67 Forum on 6–17 March 2023. The NGO platform enables civil society to engage with the UN Commission on the Status of Women (CSW), the global, intergovernmental instrument dedicated to promoting women's rights, gender equality, and the empowerment of women.

WACC is co-organizing two NGO CSW67 Forum parallel events that delve into communications rights dimensions of the overarching CSW67 themes of innovation and technological change and education in the digital age, said Sarah Macharia, WACC Gender and Communication program manager.

"The events will focus on taking steps to protect the rights of women and girls in digital spaces and to address gender cyberviolence," she said.

Algorithms, the Digital Divide and Polarization: Impact on Gender Justice, Thursday, 9 March, 9:00–11:00 (EST). A joint offering by WACC, the World Council of Churches, Act – Church of Sweden, and Act Alliance, the webinar will give a better understanding of algorithms and how they are used to create division and polarization. Speakers will share how to be a more discerning citizen of the digital space and to make digital platforms safer places for all. Registration: https://bit.ly/CSW67-algorithms-genderjustice.

Safe Zone: Creating media space for diverse women with ICTs, Friday, 10 March, 6:15–7:45 (EST). This hybrid event co-organized with the Global Forum for Media Development (GFMD), Fondation Hirondelle, and other partners will explore what the rise of new technologies means for gender equality and how women can use the internet to their advantage to create safe online media spaces that connect communities with journalists and enable public debate. Registration: https://bit.ly/CSW67-safezone.

Both events are free of charge. Advance registration is required.