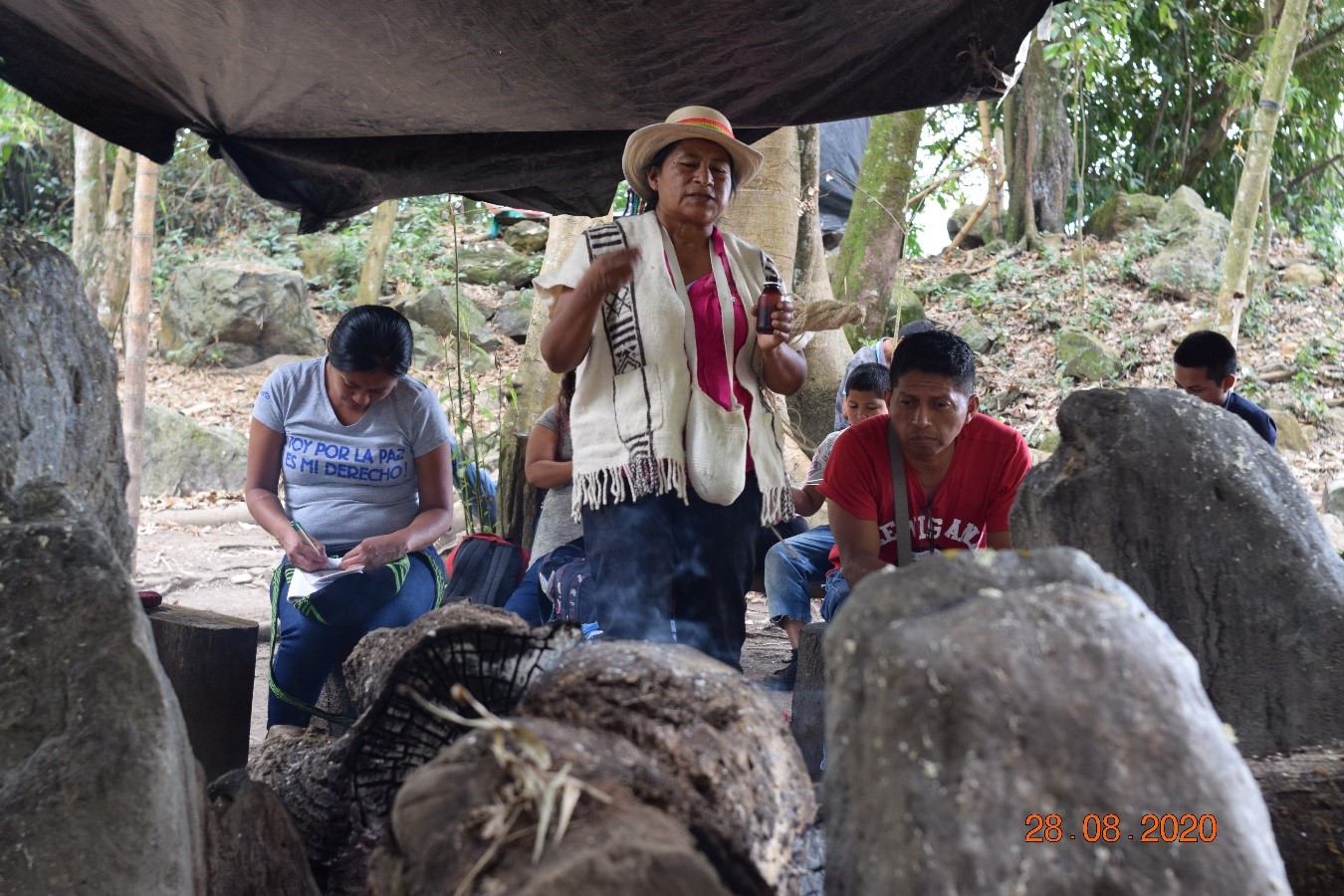 03 Sep 2020

Workshops on 'communication for the defense of mother earth' begin in Colombia

A "Father Fire" around a tulpa (an Indigenous gathering) greeted communicators and members of Colombia's Asociación de Cabildos Indigenas de Norte del Cauca (ACIN, Association of Indigenous Councils of Northern Cauca) who arrived to conduct the first of a series of workshops on communication, community organizing, and the use of digital tools.

The workshops are part of a project supported by WACC Global and Cultural Survival, a non-profit group based in Cambridge, Mass.

"In this place the joy of community members awaited us from the territories of Toribio, Tacueyo, San Francisco, Jambaló, Corinto, López in, Miranda, Florida, Toez, Guadualito, Canoas, Munchique, Huellas and Cerro Tijeras," wrote Diana Collazos, a communicator of the Nasa people, in a report sent to WACC. "Around 83 participants under the spiritual guidance of Kiwe made an offering to the greater spirits in order to open the way in this communication space for truth and life."

The workshop, which had been delayed for months because of Covid-19 restrictions, was held August 27 to 29 in the territories of the Toribio, Corinto, and Chorrillos village of the Huellas Caloto reservation.

"What was it that called us to this meeting? We could say love for our territory, for our roots, for learning and unlearning around the tulpa about proper and appropriate communication for the defense of our mother earth, or as we say from the north of Cauca, for the liberation of our motherland," said Collazos.

ACIN, an Indigenous governance umbrella and non-profit organization established in 1996, has planned eight communication workshops as part of its development plans (plan de vida) to guide its work on Indigenous governance, heritage, environmental protection, access to justice and communications. They will also guide the work of four communication radio stations that operate within its territory. In 2018-2019, WACC supported Uswal Nasayuwe Stereo, one of ACIN members.

"The project seeks to strengthen ACIN's community radio network in order to better position it to issue public alerts when human rights violations are taking place, provide valuable information to local community members, and support community organizing efforts seeking to defend Indigenous territories," said Lorenzo Vargas, WACC program manager for Communication for Social Change. "Content will be broadcast through community radio stations, and also shared at community and school gatherings."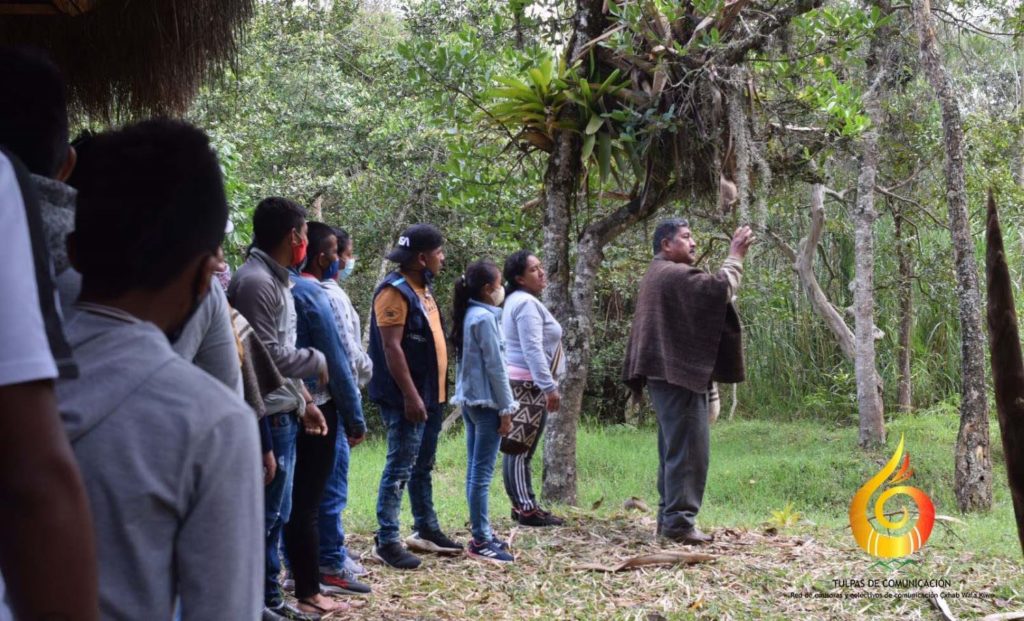 Vargas explained that historically, the northern region of the Cauca department, where ACIN has legal jurisdiction, "has seen high levels of violence related to political conflict and drug trafficking." He noted that following the peace agreements between the Colombian government and the guerrilla movement Fuerzas Armadas Revolucionarias de Colombia (FARC, the Revolutionary Armed Forces of Colombia), "people in this part of the country expected higher levels of state investment and reduced violence." Instead, violence has been on the rise as new armed actors have moved into territories previously controlled by FARC, he added. "This situation has had a major impact on Indigenous people in the area as they have seen how some of their leaders and neighbours are displaced, threatened, or attacked, especially over the control of land."
During a conversation with an elder, those gathered around the tulpa shared their experiences and remembered those who have been killed for defending their lands, said Collazos."Today we remember them along with the phrase 'one kills and a thousand are born' because from this space we will take care of keeping their legacy alive and making the seed germinate in hearts."
About 60 people (50% of them women, including community radio broadcasters, activists and local leaders) from 22 Indigenous reserves within ACIN's territory are expected to take part in the workshops. The workshops will be complemented by eight visits by members of the network to each others' reserves in order to produce stories collaboratively and build the capacity of youth and women. At least 40 media product in various formats will be produced.
The project will include two in-depth exchanges with community and Indigenous communicators in other parts of Colombia to build new networks and learn from each others' experiences.
It will also seek to build connections with the academic community, primarily researchers from the newly-established Universidad Autonoma Indigena Intercultural (UAIIN).
"Beyond building the capacity of the network, this project seeks to attract greater public attention to issues affecting Indigenous communities and impacting traditional forests and water sources in this part of the country," said Vargas.
Headquartered in the municipality of Santander de Qulichao, ACIN has legal jurisdiction over 15 Indigenous reserves and 7 Indigenous councils in the norther region of Cauca department. It is governed by a board made up of 22 traditional elders and delivers several basic services to local population (about 124,735 people, most of whom belong to the Nasa nation or to Afro-descendant groups), including education and health.
"About 60% of ACIN's leaders are women, which reflects the organization's commitment to gender equality," said Vargas.
Most of ACIN"s funding comes from the national government, and international NGOs like OXFAM, Ford Foundation, and GIZ contribute to its work.
Photos courtesy of ACIN