22 Aug 2016

Report analyzes communication needs during Nepal earthquakes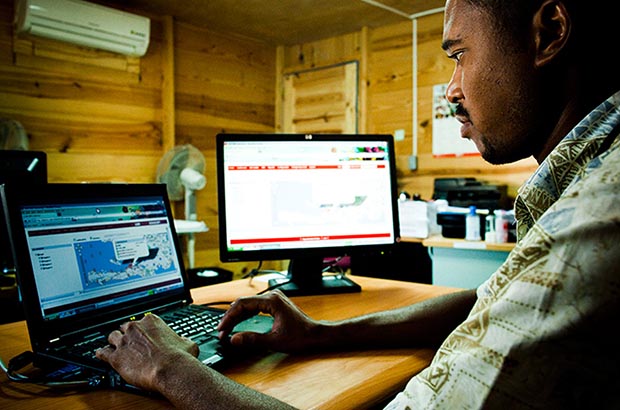 Communicating with, and providing information to, people affected by crisis is increasingly being recognised as vital in humanitarian response. Photo: CDAC.
---
A report released in August from the Communicating with Disaster Affected Communities (CDAC) Network explores the views and experiences with communications in communities affected by the Nepal earthquakes in April and May 2015.
The report, titled "Are You Listening Now?", sought to find out how and whether the communities' information needs were met. It aimed to fill a knowledge gap about the relative contribution of the efforts of humanitarian responders to communicate with communities in the months after the two earthquakes. WACC is a member of CDAC.
The report noted that humanitarian responders – international and national aid agencies and media support organizations – put much effort into "communicating with communities" in their response to the Nepal earthquakes, in extremely challenging physical terrain.
It said that this is indicative of a growing commitment to meeting the information needs of affected people and communities. This study set out to hear the perspectives and experiences of the affected people themselves, in terms of the extent to which they felt their information needs had/had not been met, and the reasons why, in order to better understand the added value of communicating with communities' activities, and how they could be strengthened to better meet the needs of affected people.
"Most people affected by disaster have a wide range of information needs, and a wide range of channels and sources they are drawing on, hour by hour, day by day, and week by week. How to draw a boundary around the information they say they need and that they receive is therefore a challenging and complex task," the report said.
Immediately after the earthquakes, information needs were urgent. Many of these needs related to immediate survival: how to treat the injured and get immediate assistance; how to find temporary shelter; how to cope and stay safe with the numerous aftershocks; and how to access healthcare and clean water.
There was also a hunger for news about other areas affected by the earthquakes, and the numbers of casualties and deaths elsewhere. Seven months later, information needs were related to longer-term solutions: how and where to rebuild safely; and how to survive the winter in cold temporary shelters.
There was a demand and need for information about how people would be supported, especially by government, amidst many rumors and contradictory messages about their entitlements.
Humanitarian responders were better oriented to meeting people's information needs immediately after the earthquakes when the focus was short-term survival. But while they judged quite well the type of information people needed, the detail of some of their messages was not well-grounded in the reality of people's lives and the resources available to them, in rural villages or in camps, for example, around access to safe water.
Radio and TV were the preferred sources for general news, while there was a strong preference for more personalized information channels, especially face-to-face and by mobile phone, for more personally relevant information.
"People wanted to get this kind of information from those they know and trust, for example, local government officials, and in a way where they can ask questions and seek clarification. Local people's preference for face-to-face communication resonates with research findings in the Philippines after Typhoon Haiyan," the report noted.
To read the full report, click here.
The CDAC Network was founded in 2009 by a group of U.N., non-government and media development organizations to facilitate collective work on making communicating with communities an integral part of emergency response. The network brings together over 30 member agencies, including faith-based groups.