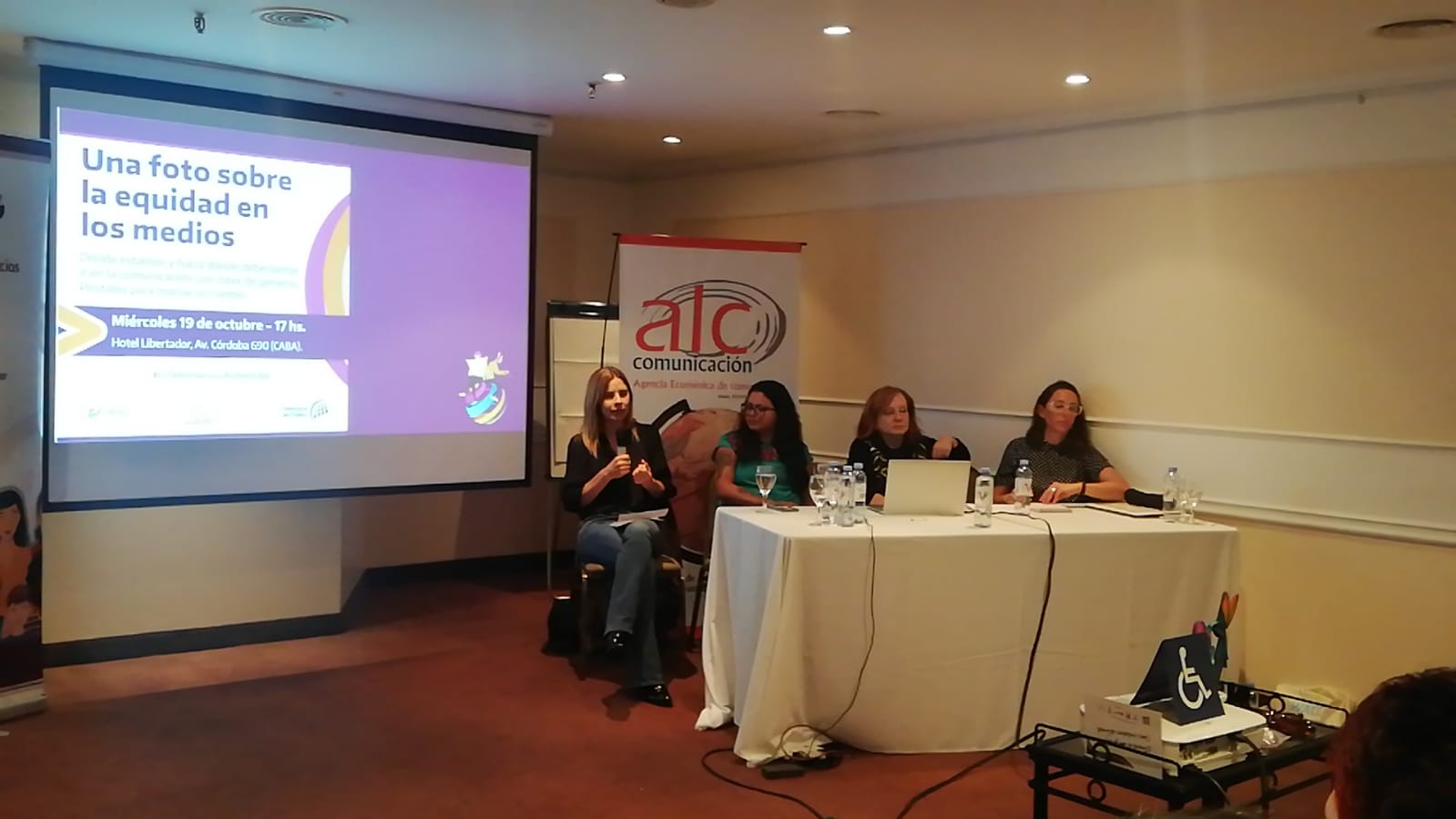 21 Oct 2022

WACC public forum in Argentina looks at equality in the media

The public forum "A snapshot of equity in the media" explored the presence of women in the news and the role of women in media companies, as focal points of the media and gender agenda. The public discussion on 19 October 2022 was part of the WACC partner consultation taking place in Buenos Aires, Argentina.

During the forum, experts from the Public Defender's Office (PDO) and the journalistic organization Comunicación e Información de la Mujer AC (CIMAC) in Mexico shared research on the subject.

Miriam Lewin, president of the PDO in Buenos Aires, a body created to monitor the Media Law in 2019, explained that there are still major challenges in applying the Fairness Certification for the media.

In order to achieve certification, the media must comply with commitments to a clear gender approach in at least four out of seven areas: personnel selection, labor inclusion policies, permanent training, distribution of care tasks, breastfeeding and care rooms, use of inclusive language, and creation of protocols to prevent labor and gender violence.

Sandra Chaher, director of Communication for Equality, pointed to the example of the Commitment Agreement, signed by more than 50 media in 2019. Although half of the signatories claim to have made progress in gender equality, results of compliance monitoring show that there are still no real measures in place to break the glass ceiling for women to access management positions. Similarly, there is very little development of internal policies to prevent gender-based violence in media companies. One positive practice is monitoring of younger journalists so that they incorporate feminist perspectives from the start of their first experiences in the media.

CIMAC pointed out a challenge in the teaching of journalism itself, which continues to present an androcentric, sexist, and patriarchal approach as "journalistic objectivity" and fails to incorporate a focus on women's human rights. The First Competition of University Journalism with a Gender Equality Focus was a positive experience because it brought together eight universities and five media outlets to encourage feminist journalistic research from the students.

Marcela Gabioud shared the results of the 6th Global Media Monitoring Project (GMMP) in Argentina. She said they underlined a setback because in 2020 women were present in 24 percent of the news, a decline from 29 percent five years before. In addition to a stereotyped presence, women were prominent in coverage of celebrity topics while less present in political news.

In media content in Mexico, representation of women does not exceed 25 percent. In addition, there is a constant stereotypical, objectified, sexualized, and revictimizing representation of women. Given this, CIMAC's news service cimacnoticias has developed the idea of peace journalism for women to incorporate a feminist approach in the production of news. This approach follows up on violations of women's human rights, incorporating the voices of women information sources; uses inclusive language; and respects the testimony and identity of the victims.

An important finding of the monitoring is the role of women journalists play in transforming media narratives because they are the ones who question gender stereotypes, inequalities, and violence. They also consult other women as sources of information and place women's realities at the center of the news.

Despite the important role that they play, women journalists face conditions that hinder the exercise of journalism, such as precarious working conditions, gender wage gaps, and glass ceilings to access management positions. The impact of the Covid-19 pandemic made this situation much worse.

CIMAC denounced violence experienced by female journalists, including sexual harassment and harassment within the newsrooms and the increase of digital violence during the pandemic. So far in 2022 alone, 123 journalists have experienced violence, which is why the comprehensive feminist accompaniment provided by CIMAC, the incorporation of a feminist approach in comprehensive protection policies, and safe return plans with a feminist approach for journalists in forced displacement are of vital importance.

Based on the Spanish-language original article for cimacnoticias by Cirenia Celestino Ortega.

Photo: Public forum "A snapshot of equity in the media" on 19 October 2022 during the WACC partner consultation in Buenos Aires, Argentina. Photo courtesy of Gabriela Ávila.