08 Apr 2020

Communication saves lives, strengthens solidarity

The global Covid-19 pandemic has shown how vital it is to get accurate and trusted information to communities in languages and channels that they understand. It has also raised awareness of the opportunities – and rights-based challenges – of digital communication. WACC and its partners are working to strengthen community media and communication rights, and monitoring the rapidly changing digital landscape.

WACC Global's grassroots partners in Ecuador and Nepal are actively responding to the Covid-19 pandemic by bringing crucial information about the contagious disease in languages that their local Indigenous communities speak and understand.  
Using the Mayan Ixil language, Community Radio Tiichajil Tenam has provided information about Covid-19 preventive measures, offered recommendations about food and medicinal plants to improve people's health, as well as other Indigenous knowledge.
The Intercultural Media Network of Indigenous Peoples (RIMCOPI) and Alcalá radio and television are using their air waves to seek donations for families who are facing hunger due to the impact of Covid-19.
Positive Communication Foundation has been calling attention to the plight of people in vulnerable conditions during the Covid-19 pandemic, including those living with HIV-AIDS in Colombia.
A network of Colombian and Venezuelan citizen reporters launches a Covid-19 prevention campaign targeted at migrants and host communities in Colombia which, like most countries, is grappling with the spread of the contagious disease.  
Radio Apac, Ltd., a community radio station in Northern Uganda and WACC Global project partner disseminates "accurate, reliable and relevant information" about Covid-19 to a largely rural farming population in the districts of Apac, Oyam, Kole, Kwania and Lango. 
A comedy skit, short spot messages, and a Q and A with a doctor who responds to questions from listeners are just some of the ways Mama FM, a women-focused radio station serving the underprivileged in Uganda are delivering critical information about the contagious disease. 
Radio Ephphatha, the Presbyterian Voice, is the denominational radio station of the Presbyterian Evangelical Church of Togo. It is also on the frontlines of raising awareness about Covid-19. 
Sixteen community radio stations and two online radio stations in Bangladesh broadcast Covid-19 related radio programs daily in 16 districts, covering Rangpur, Rajshahi, Khulna, Barisal, Dhaka, Sylhet and Chittagong, and reaches about 6.8 million people. Programs are also uploaded on Facebook and YouTube.  
Radio Al Balad, operated by the Community Media Network (CMN), an NGO and WACC partner in Jordan, has been using its airwaves to call attention to the impact of the Covid-19 pandemic on refugees. 
The Center for Community Media investigates how innovative news outlets are meeting the needs of immigrant communities during the pandemic.
Media and journalists around the world play a crucial role, as they provide an essential public service to the population.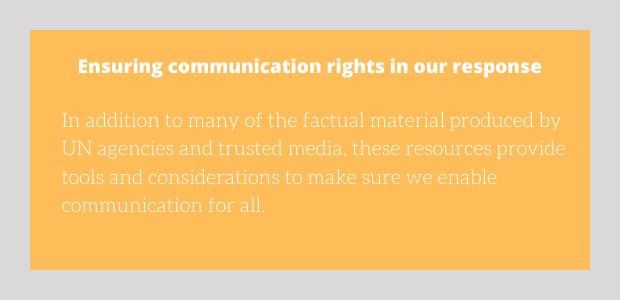 A policy brief by Translators Without Borders on the importance of language in the Covid-19 response.
A web-based initiative that gathers timely and appropriate information directed towards helping migrants during the Covid-19 outbreak, launched by the Asia Pacific Mission for Migrants.
Guides, handbooks and other publications about media, humanitarian crisis communication, and more from the Catholic Media Council.
Misinformation has been spreading as fast as the coronavirus. Africa Check sorts fact from fiction.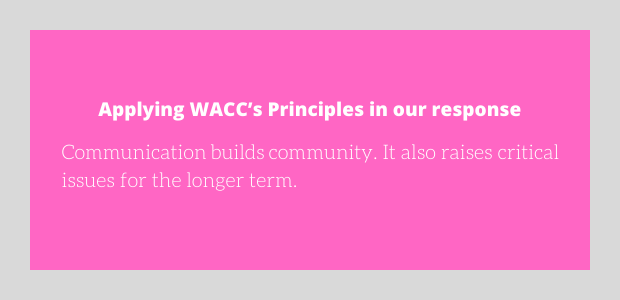 Whatever the crisis – Covid-19, police brutality, climate change – the press best serves the country when it serves its people, not the government.
For our common good, we need to use and promote technologies to unite people and communities who are divided by adversity.
ethical journalists, and investigative journalists in particular, are "key workers", vital to the well-being of a country and to a democracy where what ordinary people think actually matters.
Most migrants are extremely vulnerable both to the health and socio-economic effects of COVID–19. They are constantly on the move, work in the service economy, and have limited access to public services. Women migrants are particularly affected. 
Access to independent, diverse and reliable information underlies decision-making that can save lives and livelihoods.
In a global humanitarian crisis that is deadly in its impact, it is callous to the point of obscenity for governments to deny people access to accurate and up to date information that might save lives.
More than 100 civil society groups have urged governments not to use the global coronavirus pandemic as cover for future pervasive electronic snooping but to make sure data is erased once the health crisis is over.
Once governments have established ways of tracking and monitoring individuals in the name of national health security, they may become very difficult to undo.
Trustworthy public service media are always needed, but never more so than at times of strife, disaster, and emergency.
Collecting personal data for the best of reasons – such as tackling the coronavirus pandemic – has triggered a wave of misgivings.